ATRI study reveals trends in fuel-saving technologies
Posted October 19, 2016
The median fleet-wide fuel economy is 6.5 miles per gallon (MPG), according to investigation results released on October 17 from the American Transportation Research Institute (ATRI), in conjunction with the University of Michigan Transportation Research Institute and research sponsor ExxonMobil.
Nearly 100 fleet managers provided their views on current and future trends in fuel-saving technologies as well as the advantages and disadvantages of alternative fuels. These fleets operate just over 114,500 heavy-duty truck-tractors and approximately 350,000 trailers.
The study found that the 6.5 MPG fuel economy was being achieved through the use of a variety of fuel-saving technologies. For truck-tractors, aluminum wheels, speed limiters, and low rolling resistance tires were reported as the most common fuel-saving technologies. For trailers, low rolling resistance tires, aluminum wheels and weight-saving technologies were identified as the most common technologies.
Fuel-saving technologies which have shown the best and worst returns on investment were also investigated. Aerodynamic treatments and idle reduction technologies or strategies were identified by respondents as technologies which have shown both the best and the worst return on investment.
"This report shows which technologies fleets are using and which ones they are more skeptical about," said Steve Niswander, Vice President, Safety Policy & Regulatory Relations with Groendyke Transport, Inc. and Chairman of ATRI's Research Advisory Committee. "It also serves to highlight the difficulties fleets face when deciding which technologies are the best investments."
The report found limited use of alternative fuels with biodiesel blends identified as the most common alternative fuel being used today.
The Technical Report, titled A Survey of Fuel Economy and Fuel Usage by Heavy-Duty Truck Fleets, and Executive Summary, are available on the ATRI website.
---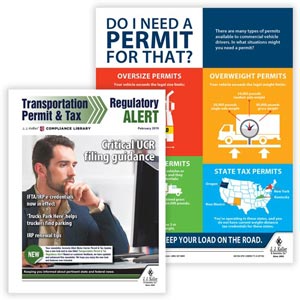 J. J. Keller's Motor Carrier Permit & Tax Update provides regular updates on changes to permitting and reporting requirements.
---
J. J. Keller's FREE Transportation SafetyClicks™ email newsletter brings quick-read safety and compliance news right to your email box.