Trucking company to pay $240K for firing Muslim drivers who refused to transport alcohol
Posted October 28, 2015
A federal jury in Peoria, Illinois, has awarded $240,000 to two Somalian-American Muslims who were fired from their jobs as truck drivers at an over-the-road trucking company, when they refused to transport alcohol because it violated their religious beliefs, according to the U.S. Equal Employment Opportunity Commission (EEOC), which brought the case. The trial started on October 19, and the jury returned its verdict the next day after 45 minutes of deliberation.
Judge James E. Shadid, the chief judge of the U.S. District Court for the Central District of Illinois, found in favor of EEOC after the company admitted liability in March 2015. The resulting trial was to determine compensatory and punitive damages and back pay. The jury awarded the two defendants $20,000 each in compensatory damages and $100,000 each in punitive damages. Judge Shadid awarded each approximately $1,500 in back pay.
EEOC alleged that in 2009, the company fired the defendants after they were required to transport alcohol. Both men told the company that they believed doing so would violate their religious beliefs under Islamic law.
EEOC also alleged that the company could have but failed to accommodate the truckers' religious beliefs, as required by Title VII of the Civil Rights Act of 1964. EEOC filed suit in U.S. District Court for the Central District of Illinois in Peoria in May 2013.
---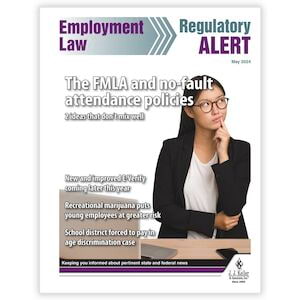 J. J. Keller's Employment Law Today newsletter explains why you need to care, what you need to do and how your business could be affected by HR industry news.
---
J. J. Keller's FREE HRClicks™ email newsletter brings quick-read human resources-related news right to your email inbox.