Stakeholders say improvements are needed to mine safety policies
Posted October 27, 2015
On October 22, the Subcommittee on Workforce Protections, chaired by Rep. Tim Walberg (R-MI), held a hearing to review mine safety policies with stakeholders representing industry and labor, as well as safety experts. The latest in a series of hearings focused on worker health and safety, the hearing examined current enforcement policies, as well ways to further improve safety in the mining industry.
Established by the Federal Mine Safety and Health Act of 1977, the Mine Safety and Health Administration (MSHA) is responsible for enforcing federal mine safety policies. The agency has implemented a number of changes in recent years intended to enhance safety protections.
"Remarkable gains in mine safety have been made over the years, but more remains to be done," explained Dr. Jeffery Kohler, a professor and chair of Mining Engineering at The Pennsylvania State University. "The goal must be to eliminate fatalities and further reduce injuries."
Committee members say, one area in need of constant attention is reducing black lung disease among America's miners. As Stephen Sanders, an attorney with more than 25 years of experience representing coal miners and their families, noted, "Some mistakenly believe that black lung disease, like many occupational diseases, is a thing of the past. That is absolutely not true. Black lung disease is still very much a problem."
Witnesses also offered their views on responsible approaches to mine safety.
Expressing a readiness to work with MSHA in a "common-sense approach to regulation and enforcement," Ed Elliott, a safety and health director in the stone, sand, and gravel industry, urged MSHA to "seek new and innovative ways to help us achieve our common goal of zero injuries in a way that the limited resources of the federal government can be targeted at the most serious hazards."
Mr. Sanders stressed the vital role miners play in the health and safety process. "These miners know they work in dangerous conditions. They have a special courage to perform their jobs in these conditions," he explained. "The miner should be the most precious resource in any strategy to improve mine safety in America and prevent future disasters."
---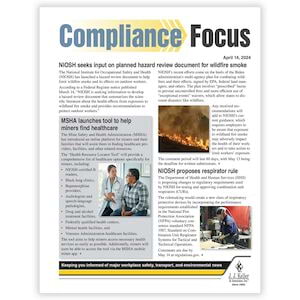 J. J. Keller's Compliance Focus helps you stay on top of critical regulatory developments from: DOT, OSHA, EPA, DOL, MSHA, EEOC, DHS and other agencies.
---
J. J. Keller's FREE Workplace SafetyClicks™ email newsletter brings quick-read workplace safety and compliance news right to your email box.