Report shows increasing population may cause gridlock for transportation industry
Posted October 26, 2015
U.S. Transportation Under Secretary Peter Rogoff and Indianapolis Mayor Greg Ballard hosted the ninth of 11 nationwide regional forums on the Beyond Traffic draft framework at the University of Indianapolis on October 21. The Beyond Traffic report examines the trends and choices facing America's transportation infrastructure over the next three decades, including a rapidly growing population, increasing freight volume, demographic shifts in rural and urban areas, and a transportation system facing more frequent extreme weather events. The report predicts increased gridlock nationwide unless changes are made in the near-term.
The meeting allowed citizens, elected officials, metropolitan planners, transportation industry partners, business owners, and community leaders to learn more about the framework and ask questions about the trends identified in it. Under Secretary Rogoff and Mayor Ballard also solicited input from the participants on their region-specific experiences and asked for ideas on how to solve those challenges.
According to the DOT, by 2050, the population of the Great Lakes megaregion – which includes Chicago, Cleveland, Detroit, Indianapolis, Minneapolis, Pittsburgh, and St. Louis – is expected to increase by more than 28 percent. But, as the condition of transportation infrastructure continues to worsen due to a lack of long-term federal investment, leaders within the region have critical decisions to make in order to accommodate this growth in population while preserving quality of life.
"As Indianapolis and the Great Lakes megaregion increase in population over the coming decades, meeting our transportation infrastructure needs will continue to be vital to sustain that growth" said Mayor Greg Ballard. "Today's conversation with the U.S. Department of Transportation and regional leaders is important in determining how we meet those transportation needs."
Following remarks by Mayor Ballard and Under Secretary Rogoff and a presentation from the U.S. Department of Transportation's Beyond Traffic team, Northeast Ohio Areawide Coordinating Agency Executive Director Grace Gallucci, Indianapolis Metropolitan Planning Organization Assistant Executive Director Sean Northup, and Indiana Department of Transportation Commissioner Brandye Hendrickson participated in a panel focusing on the impact of Beyond Traffic trends in the region. The last half of the program engaged attendees in a facilitated conversation, giving them the opportunity to share feedback that will inform the final Beyond Traffic report when it is published in 2016.
---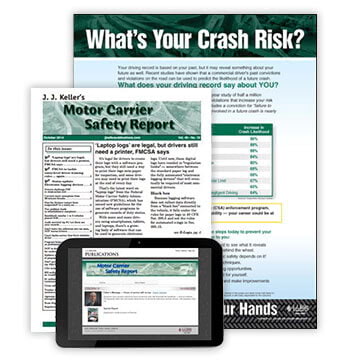 J. J. Keller's Motor Carrier Safety Report keeps you current on federal and state compliance information that impacts your drivers, trucks, and bottom line.
---
J. J. Keller's FREE Transportation SafetyClicks™ email newsletter brings quick-read safety and compliance news right to your email box.
Sign up to receive Transportation SafetyClicks™.