OSHA: Meatpacking District fatality completely avoidable
Posted October 15, 2015
A 22-year-old laborer from Queens, NY, was working on the construction of a store at 19 Ninth Ave. in Manhattan on April 6, 2015. His life ended that day when the 14-foot-deep trench in which he was working collapsed and buried him beneath tons of soil and debris.
An investigation by OSHA found that the project's general contractor and the worker's subcontractor employer did not provide cave-in protection for the trench or support or brace a section of undermined and unsupported sidewalk to prevent it from collapsing into the trench.
OSHA issued each employer two citations for willful violations of workplace safety standards on October 5. Proposed fines total $280,000 — $140,000 for each company — the maximum allowable fines under the Occupational Safety and Health Act. A willful violation is committed with intentional, knowing or voluntary disregard for the law's requirements, or with plain indifference to worker safety and health.
"His death was completely avoidable. Had the trench been guarded properly against collapse, he would not have died in the cave-in," said Kay Gee, OSHA's area director in Manhattan.
OSHA has worked in cooperation with the New York City Department of Investigations, the New York City Department of Buildings, the New York Police Department and the Manhattan District Attorney's Office on the investigation. In connection with the worker's death, officials from both companies were indicted for manslaughter and other charges in the New York State Supreme Court on August 5.
Each company has 15 business days from receipt of its citations and proposed penalties to comply, meet with OSHA's area director, or contest the findings before the independent Occupational Safety and Health Review Commission.
For more information see:
https://www.osha.gov/pls/oshaweb/owadisp.show_document?p_table=NEWS_RELEASES&p_id=28878.
---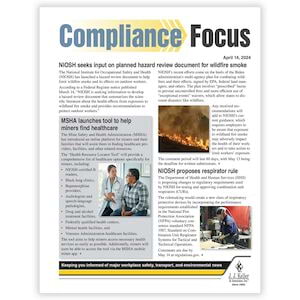 J. J. Keller's Compliance Focus helps you stay on top of critical regulatory developments from: DOT, OSHA, EPA, DOL, MSHA, EEOC, DHS and other agencies.
---
J. J. Keller's FREE Workplace SafetyClicks™ email newsletter brings quick-read workplace safety and compliance news right to your email box.