Highway bill includes numerous safety provisions
Posted October 27, 2015
The Transportation and Infrastructure committee of the U.S. House of Representatives has passed a $325 billion, six-year highway bill that would have far-reaching effects on truck and bus safety.
The Surface Transportation Reauthorization and Reform (STRR) Act of 2015 was approved on October 22, 2015, and will now go before the full House for a vote. If approved, the bill will have to be reconciled with the Senate version passed last summer.
Among many provisions related to highway safety, the bill would:
Remove Compliance, Safety, Accountability (CSA) scores and alerts from public view, and require the Federal Motor Carrier Safety Administration (FMCSA) to study and rework the entire CSA program.
Allow carriers to conduct drug testing using hair samples.
Authorize spending to train new drivers, and require the FMCSA to develop a pilot program to allow younger drivers to obtain a commercial driver's license.
Require the FMCSA to more carefully weigh a new rule's impact on various segments of the motor carrier industry, and to use new procedures when drafting rules that are deemed economically significant.
Require the FMCSA to give carriers credit under CSA for the use of advanced safety tools, programs, and equipment.
Require the FMCSA to take stock of all its regulations every five years, making sure they are consistent, clear, and uniformly enforced. The agency would also have to review and update its guidance documents.
Require the FMCSA to explain to Congress why it has missed deadlines for important new rules, including the rules for electronic logging devices and entry-level driver training.
American Trucking Associations President and CEO Bill Graves praised the bill's passage, calling it "a positive step for trucking and for the country."
"The safety reforms – from making necessary changes to the CSA safety monitoring system to allowing hair testing as part of the DOT testing program, and limited interstate access to younger commercial drivers – included in this bill are also important steps forward for our industry," Graves said in a written statement.
Authorization for current spending on highway programs expires on October 29, 2015. Congress could pass another short-term extension to allow the two chambers to reconcile their differences on a longer-term bill.
---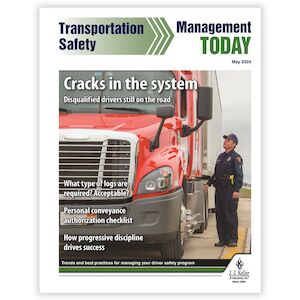 J. J. Keller's Transport Safety Pro Advisor helps you stay on top of the latest regulatory and non-regulatory issues affecting the motor carrier industry.
---
J. J. Keller's FREE Transportation SafetyClicks™ email newsletter brings quick-read safety and compliance news right to your email box.
Sign up to receive Transportation SafetyClicks™.