GHSA releases roadway drug use report
Posted October 14, 2015
The Governors Highway Safety Association (GHSA) and the Foundation for Advancing Alcohol Responsibility recently released a report on drugged driving that includes recommendations on dealing with the issue.
According to the GHSA, recent national data shows that 40 percent of fatally – injured drivers tested positive for drugs, which is close to the percentage of those that tested positive for alcohol. Also, a recent roadside survey by the National Highway Traffic Safety Administration (NHTSA) revealed that 22 percent of drivers tested positive for a drug or a medication.
The report provides suggestions to states to combat drugged driving, including:
Assessment of data to understand the current situation
Reviewing and updating drugged driving laws
Training and educating law enforcement and justice officials
Testing all fatally-injured drivers for drugs
Providing drug screening and assessment to offenders and referring them to treatment if necessary
Tracking alcohol and drug – impaired driver crash data separately
The report also highlights an Ohio pilot program, "Drugged Driving=Done Driving," which provides education to younger drivers about the hazards of driving while under the influence.
Additionally, the report suggests actions at the federal level, including:
A national drugged driving education program
Standardized roadside testing policies and devices
Data collection guidelines, and
Continued research on the effects of drugged driving laws and policies
Click here to view the entire report.
---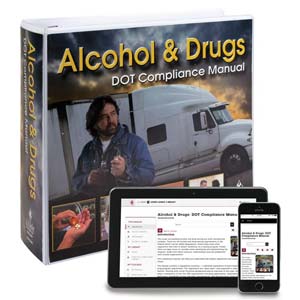 J. J. Keller's Alcohol & Drugs DOT Compliance Manual can help you understand and comply with DOT's Alcohol & Drug Testing requirements, including 49 CFR Parts 382 and 40.
---
J. J. Keller's FREE Transportation SafetyClicks™ email newsletter brings quick-read safety and compliance news right to your email box.
Sign up to receive Transportation SafetyClicks™.