FMCSA issues guidance on editing of e-logs
Posted October 5, 2015
New guidance from the Federal Motor Carrier Safety Administration (FMCSA) gives drivers a larger role in the review and correction of their electronic logs. The guidance says drivers using Automatic On-Board Recording Devices (AOBRDS) that comply with 49 CFR Sec. 395.15 may — within limits — review their logs, annotate and correct inaccurate information, and enter missing information.
Since 1997, guidance from the FMCSA has prohibited drivers from editing their own e-logs, restricting that task to supervisors only; however the agency now acknowledges that drivers may need to make legitimate corrections.
For example, a driver may forget to log out of the e-log system or may enter the "off duty" status when he or she is actually on duty and not realize the error until later. Previous FMCSA guidance would have required the driver to report the problem to a supervisor, who would then have to make the correction.
Advances in AOBRD technology over the past 25 years have made e-log falsification much harder to hide, the agency says, allowing a loosening of some of the restrictions on editing.
The new guidance says certain limits must remain in place, however:
The AOBRD must retain the original, unedited entries.
The AOBRD must record the date and time of any edits as well as the name of the person making the edits.
If a log that needs editing was already certified and submitted, the driver must re-certify the edited version and transmit it to the carrier.
"Driving" time cannot be edited except in the case of unidentified or team drivers, and when driving time was assigned to the wrong driver or no driver. Such time can be reassigned to the correct driver.
Drivers' supervisors can request that a driver make edits to correct errors, but the driver has to accept or reject those requests and the AOBRD has to record that transaction. If the driver agrees to the request and annotates the record, he or she has to re-certify the corrected log.
The new guidance replaces Question 2 in the FMCSA's interpretations for Sec. 395.15.
---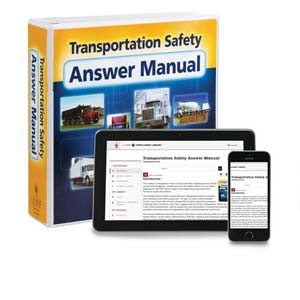 J. J. Keller's Transportation Safety Answer Manual covers more than 114 subjects, including CSA, driver qualification, hours of service, transporting hazardous materials, accidents, alcohol & drug testing, and whistleblower protection.
---
J. J. Keller's FREE Transportation SafetyClicks™ email newsletter brings quick-read safety and compliance news right to your email box.
Sign up to receive Transportation SafetyClicks™.