FMCSA grants 30-minute rest exemption
Posted October 6, 2015
On October 2, 2015, the Federal Motor Carrier Safety Administration (FMCSA) granted a two-year exemption to interstate drivers for R&R Transportation Group who haul materials that need constant attention, such as pharmaceuticals, ammunition, and radioactive materials.
Similar to drivers who haul certain types of explosives, the R&R drivers will be able to remain in attendance of their cargo and be "on duty" while getting their 30-minute rest breaks to comply with federal hours-of-service rules. Since July 2013, those rules have required most drivers of property-carrying commercial vehicles to get at least 30 minutes "off duty" in order to continue driving after the eighth hour of the workday.
When using the exemption, the R&R drivers may not perform any work during their on-duty breaks other than attending to their loads, and must note the breaks on their logs. Similar exemptions are in effect for certain drivers transporting security-sensitive radioactive materials, weapons, munitions, and oversize/overweight loads.
R&R operates three for-hire motor carriers that transport property in interstate commerce. The company says its federal contracts often require its drivers to maintain constant surveillance of the vehicle.
---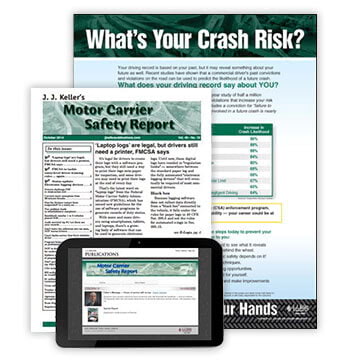 J. J. Keller's Motor Carrier Safety Report keeps you current on federal and state compliance information that impacts your drivers, trucks, and bottom line.
---
J. J. Keller's FREE Transportation SafetyClicks™ email newsletter brings quick-read safety and compliance news right to your email box.
Sign up to receive Transportation SafetyClicks™.