FMCSA announces phased implementation dates of the URS
Posted October 21, 2015
On September 14, 2015, the Federal Motor Carrier Administration (FMCSA) announced that it planned to use a phased implementation of the Unified Registration System (URS). In the October 21, 2015, Federal Register, the FMCSA published the new timeline.
The URS is an online registration system that is designed to improve the accuracy and timeliness of the information in its database of registered motor carriers. It is designed to combine several registration forms that regulated entities are required to submit into one unified process.
The original rule had three implementation dates: November 1, 2013, October 23, 2015, and April 25, 2016. The changes that occurred on November 1, 2013, remain which included new and enhanced enforcement for failing to complete a biennial update and the prohibition of interstate transportation without an active USDOT number. The bulk of the remaining changes were to occur on October 23, 2015, including a new online form called the MCSA-1 which would combine the for-hire authority forms (OP-series) with the MCS-150 registration form; the requirement for all entities to update the FMCSA and their process agents of changes within 30 days; new insurance filing requirements for private hazardous material and exempt for-hire carriers; and new fees for new entrants. The wrap-up date was to be April 25, 2016, at which time all carriers and regulated entities would have to file process agent designations.
The updated timeline has three implementation dates:
From December 12, 2015, to September 29, 2016, all new entrants, whether for-hire, Mexico-based, private, or exempt for-hire, will need to use the new online MCSA-1 form.
On September 30, 2016 the majority of the changes occur, including:

All entities must use the MCSA-1;
The expectation that changes are communicated with the FMCSA and process agents within 30 days;
A new fee structure;
New entrant exempt for-hire and private hazardous material carriers, will be required file proof of financial responsibility; and
New entrant private and exempt for-hire carriers will be required to designate process agents.

Finally, by December 31, 2016, all existing private and exempt for-hire carriers (existing as of September 30, 2016) must have designated process agents and all existing for-hire entities (including exempt) and private hazardous material carriers must have demonstrated financial responsibility.
Compliance with the URS rule applies to all interstate motor carriers (private and for-hire motor carriers of passengers and freight), freight forwarders, brokers, intermodal equipment providers, hazardous materials safety permit applicants/holders, and cargo tank manufacturing and repair facilities under FMCSA jurisdiction.
---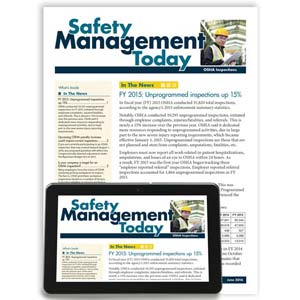 J. J. Keller's Motor Carrier Permit & Tax Update provides regular updates on changes to permitting and reporting requirements.
---
J. J. Keller's FREE Transportation SafetyClicks™ email newsletter brings quick-read safety and compliance news right to your email box.
Sign up to receive Transportation SafetyClicks™.