EPA proposes new rules to reduce potent greenhouse gas emissions
Posted October 21, 2015
On October 15, EPA Administrator Gina McCarthy joined private and public sector leaders for a second annual White House roundtable discussion about the progress made and new steps taken to curb emissions of hydrofluorocarbons (HFCs), potent greenhouse gases used in refrigeration and air conditioning. Administrator McCarthy announced several new actions the agency will take to help support a smooth transition to climate-friendly alternatives to HFCs.
Among the actions announced, EPA proposed a rule that would help improve the way refrigerant is sold, handled, recovered, and recycled. The proposal would also help strengthen the existing requirements for handling refrigerants and apply those rules to ozone-depleting and HFC refrigerants. EPA estimates that this rule would further reduce enough HFC emissions in 2025 to equal 7 million metric tons of carbon dioxide. EPA will accept comments on the proposal for 60 days following publication in the Federal Register. After reviewing public comments, EPA plans to finalize this rule in 2016.
EPA also announced that it intends to initiate a proposed rulemaking in 2016 under EPA's Significant New Alternatives Policy Program in 2016 that would change the status for certain high global warming potential HFCs to unacceptable where safer alternatives are available and also approve several new climate-friendly alternatives for a variety of industry applications.
---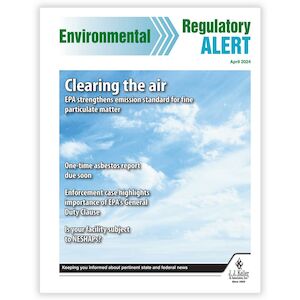 J. J. Keller's Environmental Alert: The Compliance Guide for Safety Professionals helps you stay on top of the latest environmental enforcement issues.
---
J. J. Keller's FREE Workplace SafetyClicks™ email newsletter brings quick-read workplace safety and compliance news right to your email box.