EPA finalizes 'Ozone NAAQS' rule
Posted October 28, 2015
EPA published the final rule National Ambient Air Quality Standards for Ozone in the Federal Register on October 26, 2015. The final rule is effective December 28, 2015.
Based on the EPA's review of the air quality criteria for ozone (O3) and related photochemical oxidants and national ambient air quality standards (NAAQS) for O3, EPA is revising the primary and secondary NAAQS for O3 to provide requisite protection of public health and welfare, respectively.
In the final rule EPA is:
Revising the levels of both standards to 0.070 parts per million (ppm), and retaining their indicators (O3), forms (fourth-highest daily maximum, averaged across three consecutive years) and averaging times (eight hours).
Making corresponding revisions in data handling conventions for O3 and changes to the Air Quality Index (AQI); revising regulations for the prevention of significant deterioration (PSD) program to add a transition provision for certain applications; and establishing exceptional events schedules and providing information related to implementing the revised standards.
Revising the O3 monitoring seasons, the Federal Reference Method (FRM) for monitoring O3 in the ambient air, Federal Equivalent Method (FEM) analyzer performance requirements, and the Photochemical Assessment Monitoring Stations (PAMS) network. Along with exceptional events schedules related to implementing the revised O3 standards, the EPA is applying this same schedule approach to other future new or revised NAAQS and removing obsolete regulatory language for expired exceptional events deadlines.
Making minor changes to the procedures and time periods for evaluating potential FRMs and equivalent methods, including making the requirements for nitrogen dioxide (NO2) consistent with the requirements for O3, and removing an obsolete requirement for the annual submission of Product Manufacturing Checklists by manufacturers of FRMs and FEMs for monitors of fine and coarse particulate matter.
---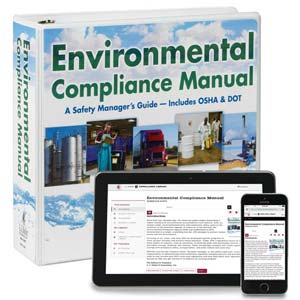 J. J. Keller's Environmental Compliance Manual is packed with easy-to-understand information on regulations, environmental issues and compliance.
---
J. J. Keller's FREE Workplace SafetyClicks™ email newsletter brings quick-read workplace safety and compliance news right to your email box.