EEOC sues promotional marketing company for disability discrimination
Posted October 7, 2015
A promotional marketing company in Maryland violated federal law when it refused to provide a reasonable accommodation to a field representative with a disability, the EEOC charged in a recent lawsuit. EEOC also charged that the company unlawfully demanded that the employee waive her rights under the Americans with Disabilities Act (ADA) and then fired her based on her disability and refusal to sign the waiver.
The employee began working as a field representative at the company's Baltimore headquarters. As a field representative, her duties included traveling to outdoor festivals to distribute free product samples and gather customer contact information. The employee had several allergies, including a severe allergy to peanuts and tree nuts. If exposed to peanuts or tree nuts, she would go into anaphylactic shock, and needed to be immediately injected with medication and hospitalized to prevent death, according to the suit. EEOC says that the employee requested that the company reasonably accommodate her disability by providing vinyl gloves for her to handle a small number of items at company headquarters that may have been exposed to peanuts and to alert hotels and airlines about her allergies when making her travel arrangements.
EEOC charged that the company refused to accommodate the employee's disability and instead improperly asked her to sign a form purporting to waive her rights under the ADA. When she refused, the company terminated her because of her disability and in retaliation for, and in interference of, her exercise of her rights under the ADA, according to the lawsuit.
Such alleged conduct violates the ADA, which prohibits disability discrimination. The ADA requires employers to provide a reasonable accommodation unless it would cause a significant expense or difficulty to the employer. The ADA also protects individuals from coercion, intimidation, threat, harassment, or interference in their exercise of their own rights or their encouragement of someone else's exercise of rights granted by the ADA. EEOC filed suit in U.S. District Court for the District of Maryland, Baltimore Division, after first attempting to reach a pre-litigation settlement through its conciliation process.
---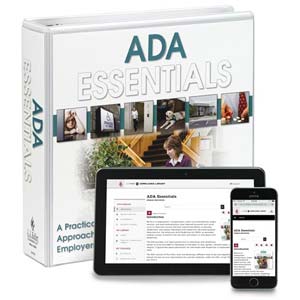 J. J. Keller's ADA Essentials Manual reviews Americans with Disabilities Act (ADA) guidelines and provides plain-English explanations to help you stay in compliance.
---
J. J. Keller's FREE HRClicks™ email newsletter brings quick-read human resources-related news right to your email inbox.