Drivers prepare to 'fall back' on their logs
Posted October 29, 2015
Daylight saving time officially ends at 2:00 a.m. on Sunday, November 1, 2015. This annual clock-changing event leaves many commercial drivers wondering how to show the time change on their records of duty status (logs).
Except for those with home terminals in Arizona or Hawaii (which do not observe daylight saving time), commercial motor vehicles drivers who use logs will need to account for the extra hour they'll gain on the clock. There are no "official" USDOT rules or guidelines for logging the end or beginning of daylight saving time. What most drivers do is simply drop a line down to the Remarks section of their log to indicate the time change and their activity and/or location.
Because drivers will "gain" one hour in the fall, their log for that day should include 25 hours of activity, because they repeat the hour from 1:00 a.m. - 2:00 a.m. The log needs to show the driver's duty status for that hour. A driver could draw a line down to the Remarks area, write "DST" or "time change," for example, and then write the duty status and any changes in duty status.
That "extra" hour must be included when calculating compliance. Compliance with the daily and weekly driving and on-duty limits is not dependent on what the clock reads, but rather on how much time the person actually worked and/or drove.
---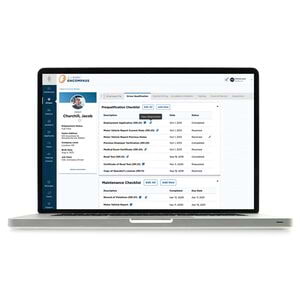 J. J. Keller® E-Logs - The industry's most flexible electronic logging system - adaptable to your needs, regardless of your fleet's size or make-up. Compatible with iPad®, iPhone® and Android™ mobile devices.
---
J. J. Keller's FREE Transportation SafetyClicks™ email newsletter brings quick-read safety and compliance news right to your email box.
Sign up to receive Transportation SafetyClicks™.