DOL can now issue administrative garnishment orders
Posted October 13, 2015
Employers may receive an order to garnish an employee's wages for any number of reasons. Many garnishments come from courts, such as child or family support orders, or creditor debts orders. However, some government agencies have the authority to issue administrative orders, without going through a judge. The Department of Education is one example; that agency may issue a garnishment for student loan debts without obtaining a court order.
Employers may see more administrative orders in the future, since the Department of Labor (DOL) recently adopted authority to garnish the wages of nonfederal workers who are indebted to the DOL without obtaining a court order. The new regulation took effect on October 8.
A law from 1996 called the Debt Collection Improvement Act authorizes federal agencies to issue administrative garnishments in order to collect debts. The law allows for garnishing up to 15 percent of an employee's disposable pay. The employer must then withhold and remand those amounts to the creditor.
Some employers will receive more than one garnishment order for the same employee, which raises questions about which order takes priority. The DOL clarified that "a withholding order for family support would always have priority over an administrative wage garnishment order." The agency also noted that "if there are multiple federal garnishment orders, priority depends on which garnishment order was first obtained." Essentially, this means that administrative orders are first come, first paid.
Despite the garnishment limit of 15 percent of disposable income for a single order, the DOL stated that total garnishments could take up to 25 percent of an employee's disposable income.
For example, if the employer is withholding 20 percent of an employee's disposable pay for a family support, the amount withheld for an administrative withholding order would be limited to 5 percent of the employee's disposable pay, for a total of 25 percent. Then, when the family support order terminates, the employer would increase the withholding on the administrative order to 15 percent.
---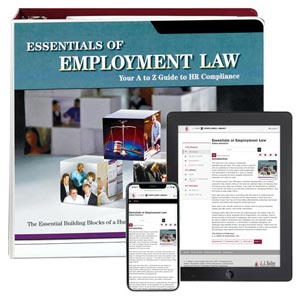 J. J. Keller's Employment Law Essentials Manual covers more than 100 vital HR topics, including FMLA, ADA, HIPAA, FLSA, COBRA and more.
---
J. J. Keller's FREE HRClicks™ email newsletter brings quick-read human resources-related news right to your email inbox.