Court grants nationwide stay against EPA's Definition of Waters of the United States rule
Posted October 14, 2015
The United States Court of Appeals for the 6th Circuit in Cincinnati has granted a nationwide stay against EPA's Definition of Waters of the United States (WOTUS) rule. Eighteen states — Ohio, Michigan, Tennessee, Oklahoma, Texas, Louisiana, Mississippi, Georgia, West Virginia, Alabama, Florida, Indiana, Kansas, Kentucky, North Carolina, South Carolina, Utah, and Wisconsin — petitioned the court to grant the stay, which temporarily blocks implementation of the rule that went into effect August 28, 2015. The petitioning states challenged the validity of the rule, citing it as an overreach of EPA's authority.
In a dissenting opinion, circuit court Judge Damon Keith said the court should not issue a stay before it determines if it has subject-matter jurisdiction to review the rule.
In August, a federal district court judge in North Dakota ordered the delay of the rule's effective date in 13 states.
---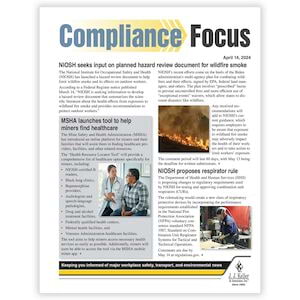 J. J. Keller's Compliance Focus helps you stay on top of critical regulatory developments from: DOT, OSHA, EPA, DOL, MSHA, EEOC, DHS and other agencies.
---
J. J. Keller's FREE Workplace SafetyClicks™ email newsletter brings quick-read workplace safety and compliance news right to your email box.