Chemical Safety Board uncovers flaws at a Texas insecticide plant where four chemical workers died
Posted October 5, 2015
An ongoing U.S. Chemical Safety Board (CSB) investigation into the November 15, 2014, toxic chemical leak that killed four workers at an insecticide plant in La Porte, Texas, has uncovered flawed safety procedures, design problems, and inadequate planning. On September 30, 2015, the CSB unanimously approved the team's interim findings and safety recommendations.
Nearly 24,000 pounds of deadly methyl mercaptan escaped in the middle of the night through two valves in a poorly ventilated manufacturing building. In one area of the plant, operations personnel attempted to clear blocked piping. Later in a different area, two workers opened valves in response to what they believed was a routine, unrelated pressure problem. The two workers were killed when liquid methyl mercaptan drained from the open valves, filling the room with toxic vapor. One of those workers made a distress call, and two additional workers died responding to that call.
Days prior to the accident, water had mixed with liquid methyl mercaptan in piping. Due to cold weather in the Houston area, this mixture formed a solid material called a hydrate, which blocked the piping. A technical team eventually developed a plan to clear the blockage by spraying hot water onto the pipes, melting the hydrate. On November 15, operations personnel worked through the night attempting to clear the blockage. Following a failed start-up, workers paused to take a break. During that break, the plant started to experience a different problem – high pressure in other piping.
The facility had long-standing issues with vent piping to an incinerator installed in 2011. To deal with these problems, daily instructions had been provided to operations personnel to drain liquid from these pipes, which were located in another section of the plant. DuPont's instructions did not specify additional breathing protection for this task. On the night of the incident, not realizing the original blockage was cleared, workers went to drain the other piping. They did not know that high pressure in that other piping was related to the fact that liquid methyl mercaptan was once again flowing through the original, now unblocked pipes.
The building where the workers died was not equipped with an adequate toxic gas detection system to alert workers to the presence of dangerous chemicals. Also, two rooftop ventilation fans were not working, despite an "urgent" work order written nearly a month earlier. However, investigators said even working fans probably would not have prevented a lethal atmosphere inside the building due to the large amount of toxic gas released.
The La Porte incident marks the third CSB investigation into a fatal accident at the chemical manufacturer's plants in the past five years. One worker was killed in 2010 when a steel hose carrying phosgene gas burst at a Belle, West Virginia, plant. Later that year, a welder perished in an explosion at a Buffalo, New York, facility.
Production of insecticide has not yet resumed at the La Porte facility. The company has agreed to address the proposed CSB recommendations as part of its plan to safely restart the facility.
Among the investigators' main recommendations:
Perform inherently safer design review,
Ensure the manufacturing building is safe for workers,
Provide relief system design that is safe for workers and the public,
Complete more robust process hazard analyses,
Assure active workforce participation, and
Promise public accountability and transparency
A CSB team led by Investigator Dan Tillema spent seven months on-site conducting the investigation and will work to address additional significant process safety issues before the Board issues a final report.
Earlier this year, OSHA fined the company a total of $372,000 for various safety violations cited after two inspections following the worker's deaths and placed the company on its severe violator enforcement program.
For more information from the CSB report see: http://www.csb.gov/
For more information on OSHA's two inspections see: https://www.osha.gov/pls/oshaweb/owadisp.show_document?p_table=NEWS_RELEASES&p_id=27981 and https://www.osha.gov/newsrelease/reg6-20150709.html.
---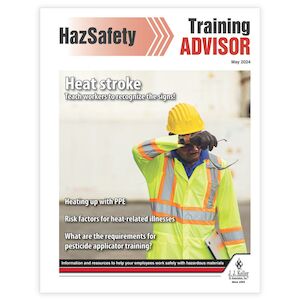 J. J. Keller's HazSafety Training Advisor helps employees understand regs and best practices related to Hazmat, HazCom, HazWaste, and HAZWOPER.
---
J. J. Keller's FREE Workplace SafetyClicks™ email newsletter brings quick-read workplace safety and compliance news right to your email box.