FMCSA declares regional emergency in Texas and Louisiana
Posted September 1, 2017
Those motor carriers providing emergency assistance following Hurricane Harvey may find relief from some federal safety regulations. Both state and federal officials have declared the situation a regional emergency, triggering 49 CFR Section 390.23, "Relief from regulations."
In a document dated August 25, 2017, Field Administrator for the Federal Motor Carrier Safety Administration's (FMCSA) Western Service Center and Regional Field Administrator for FMCSA's Southern Service Center indicate that an emergency exists that warrants issuance of a Regional Emergency Declaration in the states of Texas and Louisiana.
Motor carriers and drivers providing direct assistance to the emergency in these states because of the hurricane are granted emergency relief from the 49 CFR Parts 390 through 399, except for the following:
Controlled substances and alcohol use and testing requirements (49 CFR Part 382),
Commercial driver's license requirements (49 CFR Part 383),
Financial responsibility (insurance) requirements (49 CFR Part 387),
Hazardous material regulations (49 CFR Parts 100-180),
Applicable size and weight requirements, and
Any other portion of the regulations not specifically authorized pursuant to 49 CFR Section 390.23.
This declaration was effective immediately and remains in effect for the duration of the emergency (as defined in 49 CFR Section 390.5) or until 11:59 P.M. (ET), September 24, 2017, whichever is less.
How does a motor carrier use the exception?
Regulatory relief for commercial motor vehicle operations applies while providing direct assistance supporting emergency relief efforts transporting supplies, equipment and persons into or from the states of Texas and Louisiana, or providing other assistance in the form of emergency services during the emergency resulting from Hurricane Harvey in these states.
Direct assistance terminates when a driver or commercial motor vehicle is used in interstate commerce to transport cargo or provide services not directly supporting the emergency relief effort. Upon termination of direct assistance to the emergency relief effort, the motor carrier and driver are subject to the requirements of 49 CFR Parts 390 through 399.
Motor carriers or drivers currently subject to an out-of-service order are not eligible for the relief granted by this declaration until they have met the applicable conditions for its rescission and the order has been rescinded by FMCSA.
---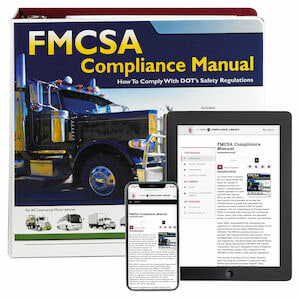 J. J. Keller's FMCSA Compliance Manual helps companies operating commercial motor vehicles (CMVs) comply with DOT regulations.
---
J. J. Keller's FREE Transportation SafetyClicks™ email newsletter brings quick-read safety and compliance news right to your email box.