Survey reveals shocking resume blunders seen by employers
Posted September 28, 2016
Finding a job can be stressful and job seekers are often up against tens, if not hundreds, of other applicants for a position. The pressure to have their resumes jump out from the stack in front of employers is high, and that can often result in getting a little too creative or perhaps outright fabricating.
According to a new CareerBuilder survey, 77 percent of managers report having caught a lie on a resume, and, in addition to embellishments, the survey reveals other outlandish and costly mistakes candidates have made.
First Impressions are key
Candidates' stress isn't coming out of nowhere. Among human resource managers, who are typically on the front lines and gatekeepers of which applicants get in front of the actual hiring managers, 43 percent said they spend less than a minute looking at a resume. Twenty-four percent spend less than 30 seconds.
The pressure to make a good first impression is on, and because of that, some candidates are making critical blunders in their effort to get noticed. HR managers and hiring managers shared their most notable and cringe-worthy real-life examples of gaffes found on a resume:
An applicant's name was auto-corrected from "Flin" to "Flintstone." His name was Freddie.
An applicant stated she had great attention to detail, but "attention" was misspelled.
An applicant claimed he worked at a federal prison. A background check determined he was actually incarcerated at the prison during that time.
An applicant stated he had been a prince in another life.
An applicant listed a skill as "taking long walks."
An applicant used direct quotes from Star Wars in his resume.
An applicant claimed he would work harder if paid more.
An applicant wrote the following at the end of the resume: "I didn't really fill this out, someone did it for me."
An applicant used a resume template with cats in the corners.
An applicant listed smoking under hobbies.
What do employers really want?
It is important to catch the eye of a human resource manager, but for the right reasons. Here are five things that HR managers say make them more likely to pay attention to an application:
Resume has been customized to their open position — 63 percent
Skill sets are listed first on the resume — 41 percent
A cover letter is included with the resume — 40 percent
Application that is addressed to the specific hiring manager — 22 percent
Resume that includes a link to a candidate's blog, portfolio, or website — 16 percent
Survey methodology
This nationwide survey was conducted online within the U.S. by Harris Poll on behalf of CareerBuilder among 2,153 hiring and human resource managers ages 18 and over, including 251 HR managers (employed full-time, not self-employed, non-government) between May 11 and June 7, 2016. With a pure probability sample of 2,153, one could say with a 95 percent probability that the overall results have a sampling error of +/- 2.11 percentage points. Sampling error for data from sub-samples is higher and varies.
---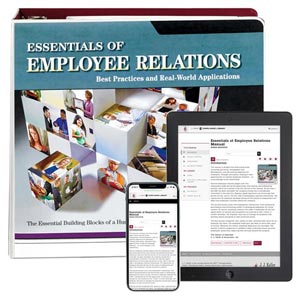 J. J. Keller's Essentials of Employee Relations Manual provides critical HR best practice tips and real-world applications in one convenient resource.
---
J. J. Keller's FREE HRClicks™ email newsletter brings quick-read human resources-related news right to your email inbox.