States object to mandatory OSHA penalty increases
Posted September 19, 2016
In a recent letter written by the Occupational Safety and Health State Plan Association (OSHSPA) to the DOL, the organization expressed its objection to the mandatory OSHA penalty increases.
OSHSPA, which consists of 28 states and territories with OSHA-approved State Plans submitted the following comments:
OSHA published an interim final rule that adjusts the amounts of civil penalties assessed or enforced in its regulations as required by the Federal Civil Penalties Inflation Adjustment Act Improvements Act of 2015. While we understand the need for the regulation in that context, we are concerned that the language of the rule could be misunderstood to mandate that states more closely minor federal penalty practices, which is not required by the OSH Act and has not been the past practice of federal OSHA.
As some of our member states have noted, the OSH Act does not explicitly say that State Plans must have the same maximum penalty authority as federal OSHA. Without commenting on that issue, we acknowledge that federal OSHA has historically taken that position. In this instance, Congress did not directly amend the OSH Act, so federal OSHA satisfied the congressional directive to increase its own penalties through rulemaking. However, the rule unfortunately seems to address a broader range of penalty issues. There is language suggesting that states must follow federal OSHA with respect to penalties. OSHSPA's Board has raised this issue with representatives of federal OSHA and has been assured that it was not federal OSHA's intention to change its past interpretation of the OSH Act, in which penalties are an element of effective enforcement but there is no requirement that a State Plan's penalty practices be identical or equivalent to those of federal OSHA.
The rule does not and should not be understood to reflect an expectation that State Plans impose penalties in a manner identical to federal OSHA. The assessment of penalties has been and must continue to be one of many factors considered in determining the effectiveness of a state's enforcement activities.
While the OSHSPA Board believes our reading is consistent with federal OSHA's intent, and certainly with its past practice and its discussions about monitoring effectiveness, it would be useful for federal OSHA to avoid future confusion by providing a written clarification as part of the final rule.
---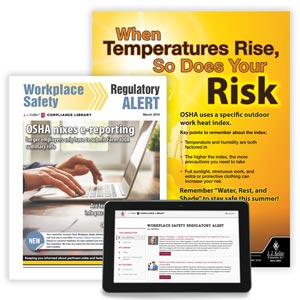 J. J. Keller's Workplace Safety Advisor newsletter delivers up-to-date workplace safety and compliance news every month.
---
J. J. Keller's FREE Workplace SafetyClicks™ email newsletter brings quick-read workplace safety and compliance news right to your email box.