Seafood company fined more than $100K for unsafe forklifts
Posted September 28, 2016
The Washington State Department of Labor & Industries (L&I) has cited a seafood processor a total of $117,740 for willful and repeated serious workplace safety violations. Many of the violations were related to forklift safety.
Being crushed by a forklift tipping over is the leading cause of forklift-related deaths in the U.S., according to L&I. If there's an accident or tip-over, operators are much safer strapped into the seat because they are at lower risk of falling out.
The seafood processor faces fines including a willful violation with the maximum allowed penalty of $70,000 for not performing regular safety inspections and not fixing defective items on the vehicles, like nonworking horns and broken seat belts.
Inspectors found that the company rarely performed forklift inspections, and defects that were reported weren't fixed. There were several instances where forklift seat belts weren't in working order, including one that was pulled completely out and wouldn't retract. Other defects included machines without working horns. This prevented operators from notifying employees in limited visibility areas that a forklift was coming through the door and put pedestrians at risk of being struck and killed.
The employer was cited for a repeat-serious violation with a penalty of $15,400 after the inspector saw two workers operating forklifts without wearing their seat belts. The seafood company was cited for the same issue in August 2015.
The company was cited for nine additional violations for exposing workers to fall hazards; failure to ensure emergency brakes were set on unattended forklifts; defective stair tread; exposed electrical wires; equipment and clutter stored in front of control panels; and unsafe use of extension cords. The violations carried penalties totaling $32,340.
The employer has 15 days to appeal.
---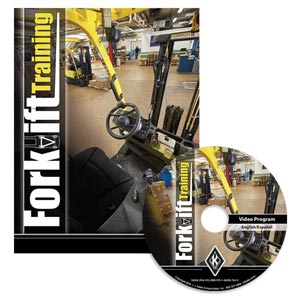 J. J. Keller's Forklift Training - DVD Training helps you meet OSHA forklift training requirements while keeping both operators and pedestrians around forklifts safe.
---
J. J. Keller's FREE Workplace SafetyClicks™ email newsletter brings quick-read workplace safety and compliance news right to your email box.