Reminder – chemical data forms due by September 30
Posted September 1, 2016
Facilities that are subject to the Chemical Data Reporting (CDR) requirements for 2016 must submit their data between June 1 and September 30, 2016.
The CDR rule, under the Toxic Substances Control Act (TSCA), requires manufacturers (including importers) to submit information to EPA on the production and use of large quantities of chemicals in commerce. Generally, the reporting threshold is 25,000 pounds or more of a chemical substance at any single site during the calendar years of 2012-2015. However, a reduced reporting threshold of 2,500 pounds applies to chemicals that are subject to certain TSCA actions.
Reporters submit basic exposure-related information on the types, amounts, and uses of chemicals produced domestically or imported into the country for calendar year 2015 (the "principal reporting year"). EPA uses the data to support chemical risk-screenings, assessments, and priority setting to construct an in-depth picture of the types, amounts, end uses, and possible exposures to chemicals in commerce.
Companies should carefully review 40 CFR 711.5 to determine their reporting requirements.
The CDR submission cycle repeats every four years.
EPA requires all companies to submit their data electronically using the electronic reporting platform e-CDRweb and EPA's Central Data Exchange (CDX) system.
This article was written by Lisa Neuberger of J. J. Keller & Associates, Inc.
---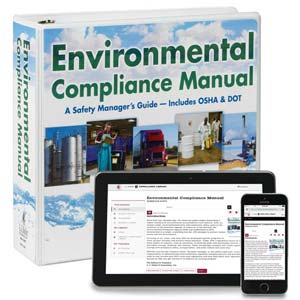 J. J. Keller's Environmental Compliance Manual is packed with easy-to-understand information on regulations, environmental issues, and compliance.
---
J. J. Keller's FREE Workplace SafetyClicks™ email newsletter brings quick-read workplace safety and compliance news right to your email box.