New instructions available for Chemical Security Assessment Tool
Posted September 23, 2016
The Department of Homeland Security recently issued its new Chemical Security Assessment Tool (CSAT) Top-Screen instructions.
Any facility that manufactures, uses, stores, or distributes certain chemicals above a specified quantity has 60 days to complete and submit a CSAT. The Department may also notify facilities — either directly or through a Federal Register notice — that they need to complete and submit a CSAT Top-Screen.
In a previous Federal Register publication, the department announced its plans to transition to the new CSAT application in a three-step process. The first step was temporarily suspending the requirement for chemical facilities under the Chemical Facilities Anti-Terrorism Standards (CFATS) to submit a Top-Screen and Security Vulnerability Assessment (SVA) as the Department improves the tiering methodology process. The suspension took effect on July 20, 2016.
The second step was to replace the current CSAT Top-Screen, SVA, and Site Security Plan (SSP) applications with CSAT 2.0 (i.e., the revised CSAT Top-Screen, SVA, and SSP applications). The Department said it will, in a phased approach, begin individually requiring affected chemical facilities to submit a Top-Screen using the revised CSAT Top-Screen application.
The agency said notifications will be sent to facilities that either (a) have previously submitted a Top-Screen with chemicals of interest (COI) above the STQ, or (b) the Department has reason to believe have COI at or above the STQ.
The department's third step is to reinstate the Top-Screen and SVA submission requirements on October 1, 2016.
---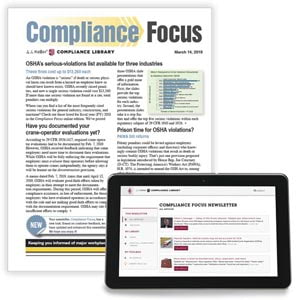 J. J. Keller's Compliance Focus helps you stay on top of critical regulatory developments from: DOT, OSHA, EPA, DOL, MSHA, EEOC, DHS and other agencies.
---
J. J. Keller's FREE Workplace SafetyClicks™ email newsletter brings quick-read workplace safety and compliance news right to your email box.