NHTSA releases Federal Automated Vehicle Policy
Posted September 21, 2016
On September 20, the National Highway Traffic Safety Administration (NHTSA) released the Federal Automated Vehicle Policy. The policy provides guidelines for safe testing and deployment of new auto technologies that have potential for improving safety and mobility on the road.
Automated vehicles are those in which at least some aspects of a safety-critical control function (e.g., steering, acceleration, or braking) occur without direct driver input.
The primary focus of the policy is on highly automated vehicles (HAVs), or those in which the vehicle can take full control of the driving task in at least some circumstances. Portions of the policy also apply to lower levels of automation, including some of the driver-assistance systems already being deployed by automakers.
Policy components
15 point safety assessment. The Vehicle Performance Guidance for Automated Vehicles for manufacturers, developers, and other organizations includes a 15 point "Safety Assessment" for the safe design, development, testing, and deployment of automated vehicles.
Model state policy. This section presents a clear distinction between Federal and State responsibilities for regulation of highly automated vehicles, and suggests recommended policy areas for states to consider with a goal of generating a consistent national framework for the testing and deployment of highly automated vehicles.
NHTSA's current regulatory tools. This discussion outlines NHTSA's current regulatory tools that can be used to ensure the safe development of new technologies, such as interpreting current rules to allow for greater flexibility in design and providing limited exemptions to allow for testing of nontraditional vehicle designs in a timelier fashion.
Modern regulatory tools. This discussion identifies new regulatory tools and statutory authorities that policymakers may consider in the future to aid the safe and efficient deployment of new lifesaving technologies.
Simultaneously with the policy, NHTSA released a final enforcement guidance bulletin clarifying how its recall authority will apply to automated vehicle technologies. In particular, it emphasizes that semi-autonomous driving systems that fail to adequately account for the possibility that a distracted or inattentive driver-occupant might fail to retake control of the vehicle in a safety-critical situation may be defined as an unreasonable risk to safety and subject to recall.
---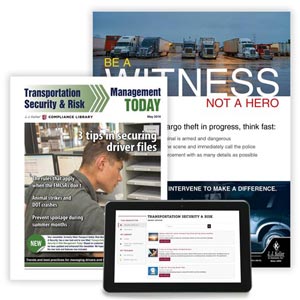 J. J. Keller's Transport Safety Risk Management & Security Newsletter keeps you up-to-date on the latest security and motor carrier safety risk management.
---
J. J. Keller's FREE Transportation SafetyClicks™ email newsletter brings quick-read safety and compliance news right to your email box.