FMCSA to hold roundtable on CMV lease and interchange final rule
Posted September 28, 2016
The Federal Motor Carrier Safety Administration (FMCSA) announced it will hold the roundtable discussion on October 31, 2016, as a follow-up to its August 31, 2016, notice of intent concerning the petitions for reconsideration of the final rule, "Lease and Interchange of Vehicles; Motor Carriers of Passengers," which was published May 27, 2015.
FMCSA says there were four areas of concern that emerged from the notice of intent that will be discussed at the meeting and will be addressed in the rulemaking. The four areas are:
Exclusion of "chartering" (i.e., subcontracting) from the leasing requirements;
Amending the CMV requirements for the location of temporary markings for leased/interchanged vehicles;
Changing the requirement that carriers notify customers within 24 hours when they subcontract service to other carriers; and
Expanding the 48-hour delay in preparing a lease to include emergencies when passengers are not actually on board a bus.
The agency is also seeking input regarding the assignment of responsibility for safety violations to the correct party.
The meeting will be open to the public and will be held from 9:30 a.m. to 4:30 p.m., Eastern Time (ET) at the U.S. Department of Transportation, Media Center, 1200 New Jersey Avenue SE., Ground Floor, Washington, DC 20590. Individuals with diverse experience, expertise, and perspectives are encouraged to attend.
You may submit comments bearing the Federal Docket Management System Docket ID (FMCSA-2012-0103) to the Federal eRulemaking Portal.
---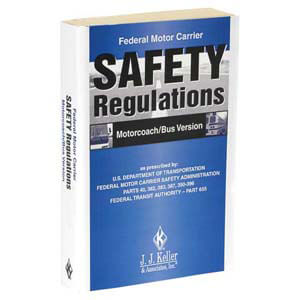 J. J. Keller's Federal Motor Carrier Safety Regulations Pocketbook - Motorcoach/Bus Version helps you satisfy DOT requirements stipulating that all bus drivers be instructed in and comply with the regulations that affect them.
---
J. J. Keller's FREE Transportation SafetyClicks™ email newsletter brings quick-read safety and compliance news right to your email box.