FMCSA considering revisions to CMV lease and interchange final rule
Posted September 6, 2016
On August 31, the Federal Motor Carrier Safety Administration (FMCSA) announced its intent to issue a rulemaking concerning revisions to its May 27, 2015, final rule titled "Lease and Interchange of Vehicles; Motor Carriers of Passengers."
The purpose of the rule is to identify the motor carrier operating a passenger-carrying commercial motor vehicle (CMV) that is responsible for compliance with the Federal Motor Carrier Safety Regulations (FMCSRs) and ensure that a lessor surrenders control of the CMV for the full term of the lease or temporary exchange of CMV(s) and driver(s).
The agency said it received numerous petitions for reconsideration of the final rule and determined that amendments should be considered in response to some of the petitions.
Therefore, FMCSA is considering the following regulatory changes:
Excluding "chartering" (i.e., subcontracting) from the leasing requirements.
Amending the CMV requirements for the location of temporary markings for leased/interchanged vehicles.
Changing the requirement that carriers notify customers within 24 hours when they subcontract service to other carriers.
Expanding the 48-hour delay in preparing a lease to include emergencies when passengers are not actually on board a bus.
FMCSA will hold a roundtable discussion on the scope of the issues to be addressed in the forthcoming rulemaking. The meeting will be public and will seek public input regarding the assignment of responsibility for safety violations to the correct party. Individuals with diverse experience, expertise, and perspectives are encouraged to attend. If all comments have been exhausted prior to the end of the session, the session may conclude early.
Details concerning the schedule and location of the roundtable, as well as procedural information for participants, will follow in an upcoming Federal Register notice.
The agency intends to complete any regulatory action(s) taken in response to the petitions before January 1, 2018.
---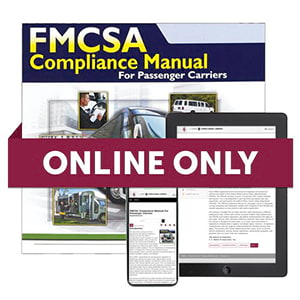 J. J. Keller's FMCSA Compliance Manual For Passenger Carriers provides comprehensive information regarding FMCSRs specific to passenger-carrying vehicles.
---
J. J. Keller's FREE Transportation SafetyClicks™ email newsletter brings quick-read safety and compliance news right to your email box.