Exhausting FMLA leave to care for a family member
Posted September 16, 2016
Chelsea was just about to leave for lunch when Wilson popped his head into her office.
"Got a quick minute?" Wilson asked Chelsea. Since Chelsea's lunch plans were not time-sensitive, she gestured for Wilson to come in.
"Sure, sit down, Wilson," Chelsea said.
"Thanks. I'll cut to the chase," Wilson said. "As you know, I've been taking care of my dad for the past few months. I know I'm about to run out of FMLA leave for this, but I was wondering if I could have a bit more time off. His condition has not improved, and he still needs my help."
Chelsea gave Wilson a smile and thought about the request. She knew that the Americans with Disabilities Act (ADA) provided that leave beyond that taken for an employee's condition under the Family and Medical Leave Act (FMLA) could be a reasonable accommodation, but she was not sure if that provision extended to leave taken for a family member's condition.
"I'll check on that for you," she said, "and get back to you this week."
"Thank you," Wilson said as he left the room.
Chelsea also remembered something about the ADA and family members with disabilities, but she did not recall all the details. She needed to do some research.
Applying FMLA and ADA
While the FMLA entitles eligible employees to up to 12 weeks of leave when a serious health condition is the cause, leave taken for an employee's own serious condition and leave taken for a family member's condition can be quite different.
Under the ADA, if an employee took FMLA leave for his or her own serious health condition and, upon expiration of the 12 weeks of leave, continued to need additional time off for the condition, that additional time off could be seen as a reasonable accommodation. The ADA, however, does not generally require employers to provide accommodations for individuals other than the employee.
Therefore, Chelsea would likely not need to provide additional leave for Wilson to care for his father. That's not, however, the end of the story.
The ADA prohibits discrimination on the basis of an employee being associated with an individual with a disability. For example, if the company turned Wilson down for a promotion because he cared for his father, this would be discrimination on the basis of Wilson's relationship with his father (an individual with a disability). If other, similarly situated employees were provided leave for other reasons, denying Wilson the extra leave could be perceived as discriminatory based on his association with his father.
This article was written by Darlene Clabault of J. J. Keller & Associates, Inc.
---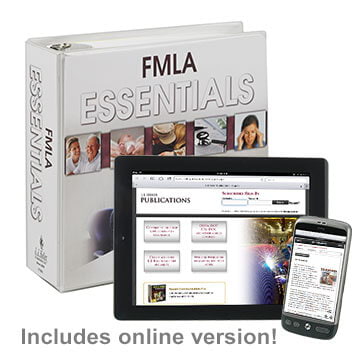 J. J. Keller's FMLA Essentials manual helps HR pros understand and comply with the requirements, control costs related to leave taken and minimize the law's potential disruption to their organizations' operations.
---
J. J. Keller's FREE HRClicks™ email newsletter brings quick-read human resources-related news right to your email inbox.