EEOC issues final guidance on retaliation and related issues
Posted September 1, 2016
The U.S. Equal Employment Opportunity Commission (EEOC) issued its final Enforcement Guidance on Retaliation and Related Issues, to replace its 1998 Compliance Manual section on retaliation. The guidance also addresses the separate "interference" provision under the Americans with Disabilities Act (ADA), which prohibits coercion, threats, or other acts that interfere with the exercise of ADA rights.
The Commission has also issued two short resource documents to accompany the new guidance: a question-and-answer publication that summarizes the guidance document, and a short Small Business Fact Sheet that condenses the major points in the guidance.
The guidance addresses retaliation under each of the statutes enforced by EEOC, including Title VII of the Civil Rights Act of 1964, the Age Discrimination in Employment Act (ADEA), Title V of the Americans with Disabilities Act (ADA), Section 501 of the Rehabilitation Act, the Equal Pay Act (EPA), and Title II of the Genetic Information Nondiscrimination Act (GINA).
Topics explained in the new guidance include:
The scope of employee activity protected by the law.
Legal analysis to be used to determine if evidence supports a claim of retaliation.
Remedies available for retaliation.
Rules against interference with the exercise of rights under the ADA.
Detailed examples of employer actions that may constitute retaliation.
According to the EEOC, since it published the 1998 Compliance Manual section on retaliation:
Charges of retaliation surpassed race discrimination in 2009 as the most frequently alleged basis of discrimination, accounting for 44.5 percent of all charges received by EEOC in FY 2015.
Seven decisions have been issued by the U.S. Supreme Court addressing retaliation under EEOC-enforced laws, and the filing of EEO claims that include a retaliation allegation has continued to grow.
---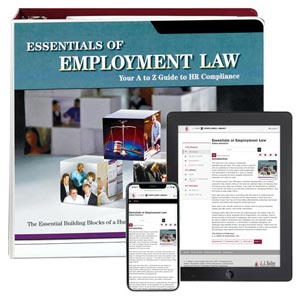 J. J. Keller's Essentials of Employment Law Manual covers more than 100 vital HR topics, including FMLA, ADA, HIPAA, FLSA, COBRA and more.
---
J. J. Keller's FREE HRClicks™ email newsletter brings quick-read human resources-related news right to your email inbox.