Auto parts maker continues to expose workers to hazards
Posted September 27, 2016
Federal safety inspectors often find that permanent and temporary employees in the auto parts industry face common workplace dangers such as falls, amputations, and electrocution hazards — a trend OSHA inspectors found continues at a Georgia manufacturer.
Acting on a complaint and as part of the agency's Regional Emphasis Program on Safety Hazards in the Auto Parts Industry, OSHA initiated another, new inspection at the manufacturer in March 2016 and cited the company and a staffing agency it employs with 24 safety violations. The staffing agency, had approximately 300 temporary employees assigned to the auto part manufacturer at the time of the inspection. In May 2016, the Augusta-based agency terminated its contract for reasons including safety concerns for its employees.
The auto parts manufacturer and the staffing agency face a total of $704,610 in penalties.
OSHA issued 12 repeated citations to manufacturer for its failure to:
Develop, implement, and utilize written procedures to prevent machinery from starting-up during maintenance or servicing.
Conduct periodic inspections of the energy control procedures at least annually.
Train employees performing work on hazardous energy sources.
Protect employees from thermal skin burns due to contact with hot metallic surfaces.
Ensure the repair or replacement of electrical equipment for safe operational condition.
Protect workers from laceration and amputation hazards due to unguarded machine parts.
The manufacturer meets the listed criteria for inclusion in OSHA's Severe Violators Enforcement Program, which focuses on recalcitrant employers that endanger workers by committing willful, repeat or failure-to-abate violations. Under the program, the agency may inspect any of the employer's facilities if it has reasonable grounds to believe there are similar violations.
The companies have 15 business days from receipt of its citations and proposed penalties to comply, request a conference with OSHA's area director or contest the findings before the independent Occupational Safety and Health Review Commission.
The SVEP allows for an assessment of any new information obtained post-citation issuance that could change the citation and the employer's proposed inclusion in the program.
---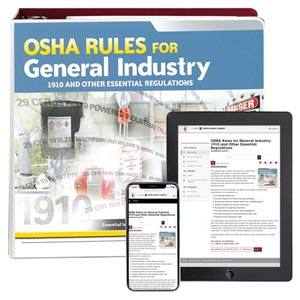 OSHA Rules for General Industry: 1910 and Other Essential Regulations puts OSHA's workplace safety regulations in a reader-friendly format.
---
J. J. Keller's FREE Workplace SafetyClicks™ email newsletter brings quick-read workplace safety and compliance news right to your email box.