Suit seeks recovery of more than $1.6M in losses to employee profit-sharing plan
Posted September 1, 2015
The U.S. Department of Labor (DOL) is suing an Illinois home healthcare provider alleging that the company, the profit-sharing plan, and two of its trustees improperly authorized distributions of $1,601,908 in profit-sharing plan assets, in violation of the Employee Retirement Income Security Act (ERISA).
The action alleges that the company president, secretary/treasurer, and the company took distributions of more than $1 million, to which they were not entitled. The suit asserts that these plan withdrawals were not in the best interests of the participants and beneficiaries of the employee benefit plan, as required by the law. The withdrawn plan assets were used for non-plan purposes, including directly benefitting the company.
The suit seeks the restoration of all related plan losses, including lost opportunity costs, and a court order requiring the defendants to account for and restore losses to plan participants.
The DOL is also seeking to permanently enjoin the defendants from serving as fiduciaries or service providers to any plan covered by ERISA. The suit requests the appointment of an independent fiduciary, who would be compensated at the company's expense, to distribute the plan's assets to participants and beneficiaries and to terminate the plan.
---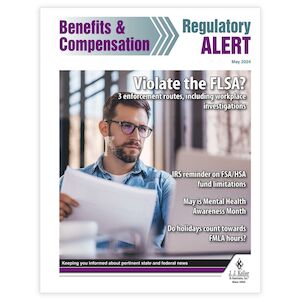 J. J. Keller's BottomLine Benefits & Compensation is an 8-page, monthly newsletter that addresses key issues relating to benefits and compensation programs.
---
J. J. Keller's FREE HRClicks™ email newsletter brings quick-read human resources-related news right to your email inbox.