OSHA staff trained in wind energy industry worker safety
Posted September 11, 2015
Members of OSHA staff were among 32 safety professionals recently trained in wind energy industry worker safety at a wind energy corporation facility in Elgin, IL. The training included how to climb a turbine and perform rescue techniques. The training builds on the successes of a four-year alliance with OSHA and the American Wind Energy Association. Through the Alliance Program, OSHA works with groups committed to worker safety and health to prevent workplace fatalities, injuries, and illnesses.
Wind energy workers are exposed to hazards that can result in fatalities and serious injuries. Many incidents involving falls, severe burns from electrical shocks and arc flashes/fires, and crushing injuries have been reported to OSHA. Some examples include:
A worker was in the bottom power cabinet of a wind turbine. He was checking the electrical connections and came into contact with a bus bar and arc flash erupted, causing injury to the victim who later died.
Worker one and two coworkers were removing and replacing a broken bolt in the nacelle assembly of a wind turbine tower that was approximately 200 feet above the ground. They were heating the bolt with an oxygen-acetylene torch when a fire started. Worker one retreated to the rear of the nacelle, away from the ladder access area. While the two coworkers were able to descend the tower, Worker one fell approximately 200 feet to the ground, struck an electrical transformer box, and was killed.
A worker attempted to descend an 80 ft. ladder that accessed a wind turbine generator. The worker slipped or fell from the ladder and was killed. The victim was wearing his company-furnished safety belt, but the safety lanyards were not attached. Both lanyards were later discovered attached to their tie-off connection at the top of the turbine generator.
A site foreman was replacing a 480-volt circuit breaker serving a wind turbine. He turned a rotary switch to what he thought was the open position in order to isolate the circuit breaker. However, the worker did not test the circuit to ensure that it was deenergized. The worker had placed the rotary switch in a closed position, and the circuit breaker remained energized by back feed from a transformer. Using two plastic-handled screwdrivers, the employee shorted two contacts on the breaker to discharge static voltage buildup. This caused a fault, and the resultant electric arc caused deep flash burns to the worker's face and arms and ignited his shirt. The worker was hospitalized in a burn unit for 4 days.
---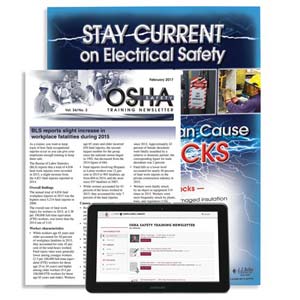 J. J. Keller's OSHA Safety Training Newsletter helps you improve your training techniques and meet OSHA requirements.
---
J. J. Keller's FREE Workplace SafetyClicks™ email newsletter brings quick-read workplace safety and compliance news right to your email box.