OSHA publishes two new fact sheets on beryllium
Posted September 28, 2015
OSHA recently released two new fact sheets, "Beryllium Safety in the Workplace" and "Health Effects of Exposure to Beryllium." Beryllium (Be) is a lightweight naturally occurring metal used in industrial processes in many different forms, such as pure metal, metal alloys, oxides, or salts. Overexposure to beryllium may cause chronic beryllium disease or lung cancer.
Currently employers must reduce exposure to this toxic substance to or below the permissible exposure limit (PEL) of 2.0 micrograms per cubic meter of air (μg/m3) averaged over 8 hours through feasible engineering and work practice controls. OSHA recently issued a Notice of Proposed Rulemaking for beryllium that proposes to reduce the PEL for beryllium to 0.2 μg/m3 averaged over 8 hours along with additional provisions such as medical screening and surveillance to protect workers exposed to beryllium. ,p>Processing beryllium in the workplace may expose workers to beryllium compounds through inhalation, ingestion, or skin contact. Exposure to beryllium occurs through:
Breathing or ingesting airborne beryllium dust, mist, or in other forms during activities including machining or grinding
Breathing fumes from heating metal containing beryllium or other beryllium compounds at high temperatures
Skin contact with beryllium-laden dust settled on surfaces or in liquids containing beryllium
OSHA's data indicate that the highest workplace beryllium exposures are associated with primary beryllium, ceramics, composites, and alloy manufacturing and recycling, or machining and fabrication.
---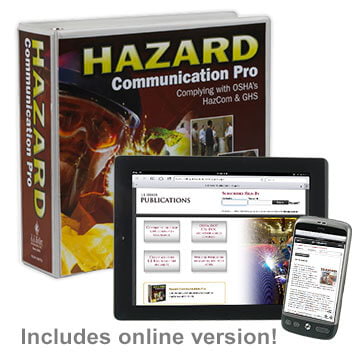 J. J. Keller's Hazard Communication Pro helps you comply with OSHA's 2012 final rule aligning the Hazard Communication (HazCom) standard with the Globally Harmonized System of Classification and Labeling of Chemicals (GHS).
---
J. J. Keller's FREE Workplace SafetyClicks™ email newsletter brings quick-read workplace safety and compliance news right to your email box.