OFCCP releases mandatory posting supplement for contractors
Posted September 15, 2015
The Office of Federal Contract Compliance Programs (OFCCP) has released a mandatory posting supplement that federal contractors are required to display.
The "EEO is the Law" Poster Supplement reflects a number of regulatory changes that have been made over the past 1½ years. The new supplement includes updated definitions and information about additional protections for employees of federal contractors.
Employers with federal contracts are required to post the supplement in addition to the current "EEO is the Law" poster, which has a 2009 revision date.
The OFCCP indicates that it is working with the Equal Employment Opportunity Commission to update the "EEO is the Law" poster, and that it will post a notice on its website when the revised poster is ready. Contractors should use the supplement with the current poster until the new poster is available for use.
The supplement includes information about the following changes that have been made to regulations impacting federal contractors:
Discrimination: Gender identity and sexual orientation have been added to the list of protected classes. The final rule adding these protections to Executive Order 11246 took effect on April 8.
Pay Secrecy: Under additional revisions to Executive Order 11246, which take effect January 11, 2016, employees are protected from discrimination based on inquiries about pay.
Individuals with Disabilities: The wording of the Individuals with Disabilities section has been revised to indicate that Section 503 of the Rehabilitation Act, as amended, protects "qualified individuals with disabilities from discrimination in hiring" and other aspects of employment. The current poster indicates that the act protects "qualified individuals from discrimination on the basis of disability in hiring" and other aspects of employment. This change was made under updates to the Rehabilitation Act that took effect on March 24, 2014.
Protected Veterans: Recruitment has been added to the list of items requiring affirmative action. In addition, the term "other protected veterans" has been replaced by "active duty wartime or campaign badge veterans." This change was made under updates to the Vietnam Era Veterans' Readjustment Assistance Act which took effect on March 24, 2014.
Pay transparency provision
Beginning on January 11, 2016, covered contractors must also disseminate a new pay transparency nondiscrimination provision. The provision is required by the Executive Order 13665 Final Rule, which was released by the OFCCP on September 10. Federal contractors may post the nondiscrimination provision either electronically or physically in conspicuous places available to employees and applicants.
The pay transparency final rule prohibits discrimination against employees of federal contractors and subcontractors who discuss pay. It applies to contracts exceeding $10,000 that will be entered into or modified after January 11, 2016.
---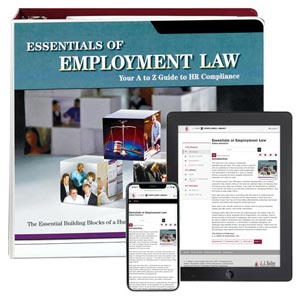 J. J. Keller's Employment Law Essentials Manual covers more than 100 vital HR topics, including FMLA, ADA, HIPAA, FLSA, COBRA and more.
---
J. J. Keller's FREE HRClicks™ email newsletter brings quick-read human resources-related news right to your email inbox.