IRS issues proposed rules regarding employer-sponsored health plans
Posted September 3, 2015
The IRS has issued a supplemental notice of proposed rulemaking that partially withdraws a notice of proposed rulemaking published on May 3, 2013, relating to the health insurance premium tax credit enacted by the Affordable Care Act (ACA) (including guidance on determining whether health coverage under an eligible employer-sponsored plan provides minimum value).
The 2013 proposed regulations provided rules for determining the minimum value of employer-sponsored plans for purposes of the premium tax credit. If an employee obtains such a credit, the employer may be subject to a play or pay penalty. Notice 2014–69 issued in November of 2014 advised that future proposed regulations would clarify that plans that fail to provide substantial coverage for inpatient hospitalization or physician services do not provide minimum value.
The September 1, 2015, proposed rule states that an employer-sponsored plan provides minimum value only if the plan's share of the total allowed costs of benefits provided to an employee (the MV percentage) is at least 60 percent, and the plan provides substantial coverage of inpatient hospital services and physician services.
Since the second provision is rather vague, the IRS requested comments on possible rules for determining whether a plan provides "substantial coverage" of inpatient hospital and physician services.
---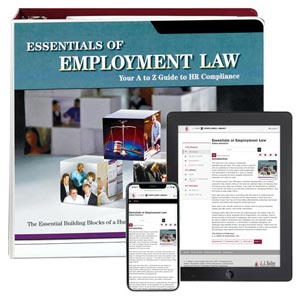 J. J. Keller's Employment Law Essentials Manual covers more than 100 vital HR topics, including FMLA, ADA, HIPAA, FLSA, COBRA and more.
---
J. J. Keller's FREE HRClicks™ email newsletter brings quick-read human resources-related news right to your email inbox.