EEOC suit alleges employee fired due to transgender status
Posted September 23, 2015
A Mississippi-based financial loan company violated federal law by firing a Louisiana manager-trainee because he is transgender, and/or because he did not conform to the employer's gender-based expectations, preferences, or stereotypes, the EEOC charged in a recent lawsuit.
Because the employee had previously filed suit, EEOC filed a motion with the federal court to intervene as an additional plaintiff. Judge Carl Barbier of the Eastern District Court of Louisiana in New Orleans granted EEOC's motion.
According to EEOC's lawsuit, the employee began working as a manager-trainee in the company's Louisiana office on March 4, 2013. While completing his employment paperwork on that date, he was required to produce his driver's license as a valid form of identification. The manager who had interviewed the employee for the position noticed that his driver's license listed his sex as "F" and she questioned him about it. The employee explained that he was a transgender man. The manager then notified the company's vice president of this fact.
On March 11 of that year, the vice president traveled to the Louisiana office to meet with the employee and told him that he must dress and act as a female in the workplace. The employee replied that he is transgender and lives and identifies as male. The employee was told that he would not be allowed to dress as a man because the vice president thought it would be confusing to customers, although there is no evidence that any customer complained. The vice president went further by saying that the company might consider employing him as a man if he underwent surgery. As a condition of continued employment, the employee was ordered to sign a written statement containing this language:
I understand that my preference to act and dress as a male, despite having been born a female, is not something that will be in compliance with [the company's] personnel policies. I have been advised as to the proper dress for females and also have been provided a copy of the female dress code. I also understand that when meetings occur that require out of town travel and an overnight room is required, I will be in [sic] assigned to a room with a female.
When the employee refused to sign the statement, the company fired him.
Such alleged conduct violates Title VII of the Civil Rights Act of 1964, which prohibits sex discrimination, including that based on transgender status and gender stereotyping. EEOC intervened in the suit in U.S. District Court for the Eastern District of Louisiana after first having investigated discrimination charges and having issued a notice of right to sue requested by the employee. EEOC is seeking injunctive relief prohibiting the company from engaging in unlawful sex discrimination in the future, as well as lost wages, compensatory and punitive damages for the employee, and other relief the court deems proper.
---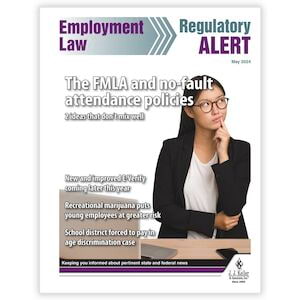 J. J. Keller's Employment Law Today newsletter explains why you need to care, what you need to do and how your business could be affected by HR industry news.
---
J. J. Keller's FREE HRClicks™ email newsletter brings quick-read human resources-related news right to your email inbox.