Decline in college degree completion could widen skills gap, research finds
Posted September 30, 2015
While the demand for educated labor continues to increase in the U.S., new research1 from CareerBuilder and Economic Modeling Specialists Intl (EMSI) suggests the supply of qualified candidates may not be keeping up with demand for certain professions. Looking at trends post-recession, nearly 500,000 more degrees were awarded in 2014 than in 2010, an 11 percent increase. However, nearly two-thirds of the new degree completions occurred from 2010-2011, with growth remaining less than one percent in subsequent years. Programs experiencing the greatest declines were heavily concentrated in humanities and social sciences.
Overall growth of college degree completions
2010 to 2011 – 6.9%
2011 to 2012 – 2.7%
2012 to 2013 – 0.3%
2013 to 2014 – 0.8%
"The market is at a unique inflection point, and we need to make sure that we're educating workers to have 21st century skills for 21st century jobs," said Matt Ferguson, CEO of CareerBuilder and co-author of The Talent Equation. "While it's encouraging to see accelerated participation growth in STEM-related college programs, the slowdown in overall degree completions — especially those tied to developing strong communications and critical-thinking skills — is concerning. Nearly half of employers say they currently have job vacancies but can't find skilled candidates to fill them. We need to do a better job informing students and workers about which fields are in-demand and growing, and provide them with access to affordable education and training, so the journey to a high-skill job is an achievable one regardless of their socioeconomic situation."
College degrees with the most growth
More than half of the top 10 broad programs leading the U.S. in degree completion (2010-2014) were in STEM (science, technology, engineering and math) fields.
Science technologies/technicians: 1,521 change, 49% growth
Natural resources and conservation: 7,792 change, 45% growth
Parks, recreation, leisure and fitness studies: 18,869 change, 44% growth
Multi/interdisciplinary studies: 24,540 change, 36% growth
Mathematics and statistics: 9,384 change, 35% growth
Public administration and social service professions: 22,683 change, 33% growth
Computer and information sciences and support services: 38,194 change, 32% growth
Precision production: 9,581 change, 30% growth Most of this growth occurred during the most recent year. Between 2013 and 2014, precision production programs saw the fastest growth out of all broad program categories (6,654 new completions, 19% change).
Homeland security, law enforcement, firefighting and related protective services: 32,529 change, 27% growth
Engineering: 32,058 change, 26% growth
College degrees with the greatest decline
From 2010 to 2014, only nine broad program categories experienced decline, nearly all of which were in humanities and social sciences (and closely related to teaching occupations):
Military technologies and applied science: -814 change, 30% decline
Library science: -1,432 change, 17% decline Between 2013 and 2014, library science programs saw the sharpest decline out of all broad program categories (1,079 change, or 14% decline).
Education: -33,301 change, 9% decline
History: -3,561 change, 8% decline
Construction trades: -1,980 change, 6% decline
Philosophy and religious studies: -542 change, 3% decline
English language and literature/letters: -1,571 change, 2% decline
Foreign languages, literatures and linguistics: -683 change, 2% decline
Architecture and related sciences: -217 change, 1% decline
College degrees that grew and then fell
The following broad program categories increased completions each year between 2010 and 2013 and then experienced a decline in 2014. The numbers below show decline between 2013 and 2014:
Personal and culinary services: -9,816 change, 6% decline
Legal professions and studies: -3,674 change, 5% decline
Law degrees decreased 7%, a drop of more than 3,000
Foreign languages, literatures and linguistics: -1,653 change, 4% decline
The mechanic and repair technologies/technicians program category has been steadily declining since its height in 2011 when it produced 112,404 completions. Between 2011 and 2014, its completion count fell 8%.
College degrees that fell, but then grew
The nation's top two program categories (by number of completions) both saw brief declines in completions in 2013 but began to recover in 2014:
Health professions and related programs — which produce the most completions out of all broad program categories — fell from 960,767 to 945,197 in 2013. It grew in 2014 with 946,036 completions.
High-skill nursing programs are growing rapidly (registered nursing, nursing administration, nursing research and clinical nursing programs awarded 57,437 more degrees in 2014 than 2010 — a 30% increase). In contrast, lower-skill nursing programs are declining (practical nursing, vocational nursing and nursing assistant programs awarded 5,519 fewer degrees in 2014 than 2010—a 5% decline).
Business, management, marketing and related support services — which produces the second highest completion count in the nation — fell from 782,399 to 770,127 in 2013. It grew in 2014 with 772,882 completions.
Analysis was based on data from the National Center for Education Statistics
---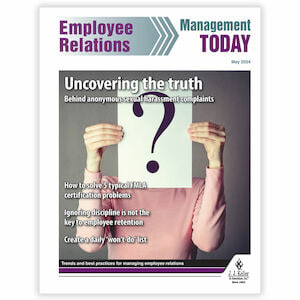 The SUPER adVISOR™ newsletter contains four pages dedicated to the HR manager and a corresponding four-page pullout dedicated to the needs of supervisors.
---
J. J. Keller's FREE HRClicks™ email newsletter brings quick-read human resources-related news right to your email inbox.