DOL issues final rule on pay transparency among federal contractors
Posted September 14, 2015
The Department of Labor (DOL) has issued a final rule that prohibits discrimination against employees of federal contractors and subcontractors who discuss pay. The rule, from the department's Office of Federal Contract Compliance Programs (OFCCP), promotes pay transparency by barring the policies of some federal contractors that have prevented their workers from discussing these issues. Under the rule, federal contractors and subcontractors may not fire or discriminate against employees for discussing, disclosing, or inquiring about their own pay or that of their coworkers. The rule also protects pay discussions by job applicants.
The rule allows job applicants and employees of federal contractors and subcontractors to file a discrimination complaint with OFCCP if they believe that their employer fired or otherwise discriminated against them for discussing, inquiring about, or disclosing their own compensation or that of others.
The rule takes effect on January 11, 2016, 120 days after its publication in the Federal Register.
---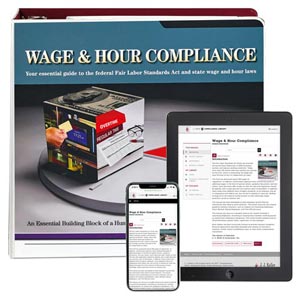 J. J. Keller's Wage and Hour Compliance with FLSA Manual provides critical info to help you comply with the Fair Labor Standards Act (FLSA) and state wage and hour laws.
---
J. J. Keller's FREE HRClicks™ email newsletter brings quick-read human resources-related news right to your email inbox.