DOL awards grants to improve unemployment insurance programs
Posted September 29, 2015
More than $39.3 million in federal grants has been awarded to enhance unemployment insurance programs in 45 states and territories, and reduce the misclassification of employees as independent contractors, the U.S. Department of Labor (DOL) has announced.
The funding will help prevent and detect improper benefit payments, improve program performance, address outdated information technology systems, and combat employee misclassification that underpays and denies benefits to workers.
The grants fall into three categories:
Program Integrity and Performance Improvement: Grantees must implement or commit to expand the usage of the State Information Data Exchange System to qualify. In addition, grantees may use funding to implement or expand their use of the Treasury Offset Program; information technology security projects; strategies to reduce improper payments received after a claimant returns to work or through fraud; and other strategies approved by the department.
Consortium Projects: Two grants totaling approximately $8.7 million are being awarded to state consortia to support modernized unemployment insurance information technology systems and to improve overall program quality, performance, and integrity, and to reduce costs using a multi-state approach.
Worker Misclassification Grants: For the second year, the DOL is awarding grants to increase the ability of state unemployment insurance tax programs to identify instances where employers improperly classify employees as independent contractors or fail to report the wages paid to workers at all. In addition to denying workers access to critical benefits and protections to which they are entitled, worker misclassification generates substantial losses to state unemployment insurance funds. States will use these grants for a variety of improvements and initiatives, including enhancing employer audit programs and conducting employer education initiatives. The Consolidated and Further Continuing Appropriations Act of 2015 authorized funding for "activities to address the misclassification of workers." The DOL awarded grants up to $500,000 on a competitive basis.
---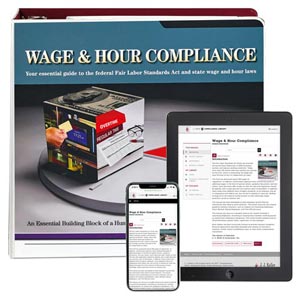 J. J. Keller's Wage and Hour Compliance with FLSA Manual provides critical info to help you comply with the Fair Labor Standards Act (FLSA) and state wage and hour laws.
---
J. J. Keller's FREE HRClicks™ email newsletter brings quick-read human resources-related news right to your email inbox.