Comment period ending soon for several OSHA proposed rules
Posted September 21, 2015
The comment periods are ending soon for these significant proposed rules from OSHA:
Clarification of Employer's Continuing Obligation to Make and Maintain an Accurate Record of Each Recordable Injury and Illness – Amends recordkeeping regulations to clarify that the duty to make and maintain accurate records of work-related injuries and illnesses is an ongoing obligation. Comment period ends 9/28/2015.
Chemical Management and Permissible Exposure Limits (PELs) – Request for information on a number of technical issues related to OSHA's rulemaking process for chemical hazards in the workplace. Comment period was originally scheduled to end on 4/8/2015 but was extended to 10/9/2015.
Occupational Exposure to Beryllium and Beryllium Compounds – Amends existing exposure limits for occupational exposure to beryllium and beryllium compounds in general industry. In addition, OSHA seeks comments on a number of alternatives, including a lower PEL, that could affect construction and maritime, as well as general industry. Comment period ends 11/5/2015.
All submitted comments must include the Agency's name (OSHA), the title of the rulemaking, and the docket number. OSHA will place comments and other material, including any personal information provided, in the public docket without revision, and the comments and other materials will be available online at http://www.regulations.gov. Follow the instructions on the website for making electronic submissions.
---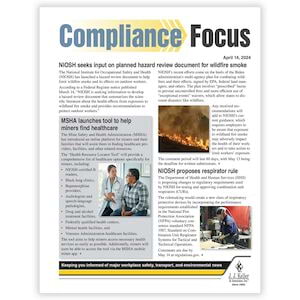 J. J. Keller's Compliance Focus helps you stay on top of critical regulatory developments from: DOT, OSHA, EPA, DOL, MSHA, EEOC, DHS and other agencies.
---
J. J. Keller's FREE Workplace SafetyClicks™ email newsletter brings quick-read workplace safety and compliance news right to your email box.