California 'readopts' emissions standard
Posted September 29, 2015
California regulators are taking steps to reduce carbon pollution from gasoline and diesel fuels by 10 percent over 5 years, forcing oil producers to make changes to transportation fuels sold in the state.
The California Air Resources Board (CARB) re-adopted a Low Carbon Fuel Standard (LCFS) on September 25, 2015, targeting the carbon intensity of transportation fuels. The LCFS sets a baseline target for carbon intensity in transportation fuels used in California, which is then reduced each year.
The decline in the LCFS carbon intensity targets was frozen due to a legal challenge. To address the court's ruling and to strengthen the program, CARB readopted the LCFS regulation following public testimony.
Under the regulation, if a fuel is above the annual carbon intensity target, it incurs deficits. If a fuel is below that target, it generates credits which may be used later for compliance or sold to other producers who have deficits. So far, fuel producers are over-complying with the regulation, CARB said.
The readopted version of the LCFS includes a number of modifications developed with stakeholder input, which include:
Incorporating additional cost containment in response to stakeholder concerns about possible price spikes by including a mechanism to cap LCFS credit prices;
Streamlining the application process for alternative fuel producers seeking a carbon intensity score; and
Improving the process for earning LCFS credits by charging electric vehicles.
CARB also adopted a regulation governing alternative diesel fuels, setting a process in place beginning in 2016 to bring cleaner diesel substitutes into the market. This regulation also establishes emissions requirements and fuel specifications for biodiesel.
Click here to view the LCFS and ADF regulations.
---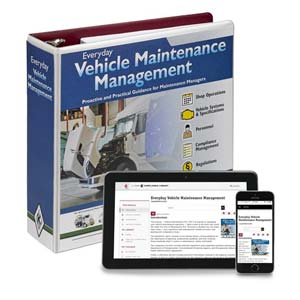 J. J. Keller's Vehicle Maintenance Pro Manual offers practical advice on selecting best vehicles for the job, tracking costs and repairs, developing maintenance standard, and organizing the shop for maximum efficiency.
---
J. J. Keller's FREE Transportation SafetyClicks™ email newsletter brings quick-read safety and compliance news right to your email box.
Sign up to receive Transportation SafetyClicks™.