WHD sues mental health provider for violating anti-retaliation provisions of the FLSA
Posted August 24, 2016
Investigators from the U.S. Department of Labor's Wage and Hour Division (WHD) say that a North Carolina company providing mental health and therapeutic support services, its owner, and its manager violated the anti-retaliation provision of the Fair Labor Standards Act (FLSA).
Specifically, the department alleges that the employer demanded two workers return back wage payments they received from an earlier division investigation. As a result of the earlier investigation, the employer entered into a settlement and compliance agreement to pay over $100,000 for overtime and minimum wage violations. The workers refused to return the back wage payments and the employer reduced their pay to recover the money. The demand to return the back wages and reduction in pay violate the anti-retaliation provisions of the FLSA.
On August 17, 2016, the department filed a complaint in the U.S. District Court for the Middle District of North Carolina, Durham Division, against the company, its owner, and its manager. The agency is seeking to compel the employers to pay the two employees who were retaliated against back wages and an additional equal amount in liquidated damages. When conducting the investigation regarding retaliation, the agency discovered that the employers continue to violate FLSA overtime regulations. These new violations result in four employees, including the two employees retaliated against, being due overtime back wages and liquidated damages, according to the WHD.
The division's Raleigh District Office conducted the investigation and the department's Atlanta Regional Office of the Solicitor is litigating the case.
The FLSA states that it is a violation for any person to discharge or in any other manner discriminate against any employee because such employee has filed any complaint or instituted or caused to be instituted any proceeding under or related to this Act, or has testified or is about to testify in any such proceeding, or has served or is about to serve on an industry committee.
---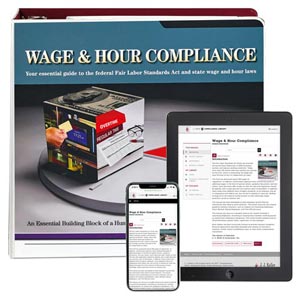 J. J. Keller's Wage and Hour Compliance with FLSA Manual provides critical info to help you comply with the Fair Labor Standards Act (FLSA) and state wage and hour laws.
---
J. J. Keller's FREE HRClicks™ email newsletter brings quick-read human resources-related news right to your email inbox.