The ADA isn't that hard
Posted August 4, 2016
Recently, a federal court ruled in favor of an employee who was fired for drinking orange juice while on the job — operating a cash register at a store. Such consumption was prohibited under the company policy, and the employee's supervisor was aware of the policy. The supervisor was not, however, aware that an exception to such a policy could be a necessary consideration as a reasonable accommodation under the Americans with Disabilities Act (ADA).
In this case, the employee had diabetes and on a couple occasions when working alone, needed to act fast to keep her blood sugar from going too low. Since she could not leave her work station, she took some juice from the store's shelf and paid for it later.
At one point, store managers conducted an audit to identify why products were going missing (if store employees consumed the products before paying for them, it was referred to as "grazing"). After a couple employees admitted to grazing with no argument supporting the activity, they were terminated. The diabetic employee was also interviewed and admitted to the grazing but explained her reason for it — that she did only because of her condition, and she had reported it to her supervisor at the time. She was told she would have to talk to HR about whether the grazing would be considered a reasonable accommodation, but she never got the chance; she was also terminated.
In court, the employer tried to argue that the employee had not requested an accommodation; she didn't follow the company's formal process for doing so. It also argued that it had provided the employee with accommodations, as she was allowed to store juice in the break room or in the front of the store, and her supervisor told her that if she was going to keep juice while working, to keep it hidden from the store cameras.
The court found that the employee did request an accommodation as no formal process needs to be followed. It also found that the employer did not engage in an interactive process and did not provide reasonable accommodations, and that it terminated the employee for conduct that occurred because the employer failed to accommodate her.
The ADA is fraught with grey areas, but it can be broken down to a few important steps:
An employee requests a workplace change (exceptions to policies, restrictions, time off, etc.).
You engage in an interactive process with the employee, with a focus on identifying effective reasonable accommodations that will eliminate the barrier between the employee's limitations in relation to the job's essential functions.
Explore accommodation options, chose one, and put it in place. While a transfer to another position could be an effective accommodation, look first to accommodations that would allow the employee to continue working in his or her current position. If no accommodations will allow this, then you can look at a transfer. If there are no accommodations that would be effective without causing undue hardship, the employee might not be qualified for the job.
Review the effectiveness of the accommodation occasionally.
Training supervisors and managers to recognize a potential accommodation can also go a long way in helping ensure this process does not break down. Supervisors who fail to recognize such requests may be preventing the interactive process from even getting started.
Just a handful of basic steps can help keep many situations from escalating into a potential time- and money-sapping court case.
EEOC v. Dolgencorp, LLC, U.S. District Court E.D. Tennessee, No. 3:14-CV-441, July 7, 2016.
---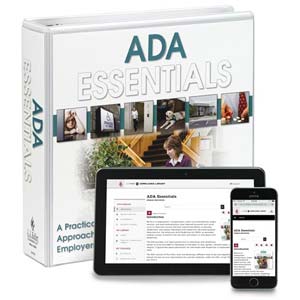 J. J. Keller's ADA Essentials Manual reviews Americans with Disabilities Act (ADA) guidelines and provides plain-English explanations to help you stay in compliance.
---
J. J. Keller's FREE HRClicks™ email newsletter brings quick-read human resources-related news right to your email inbox.