Ten Steps to Successful Time Management
Posted August 2, 2016
As a busy safety professional, you wear many hats. Compliance, personnel, and safety are just some of the tasks that compete for your valuable time. The following are ten ways to help you manage one of your most precious commodities — time.
Set priorities. Make a list. Evaluate the importance of each task you perform. Is the task critical to you, your job, and/or your company? Place the most critical tasks at the top of your list.

Those tasks that are of less importance or are not time sensitive can be placed closer to the bottom of the list.

Delegate. Some of the tasks at the bottom of your list could be delegated to others. Key to successful delegation is making sure procedures that are acceptable to all parties involved are in place prior to delegating the tasks.
Outsource. Make use of services offered by reputable service providers whenever they can save you time and money.
Stay organized. Though easier said than done in many cases, being organized can increase productivity. Keep your desk free of unnecessary items. Use a filing system to help you keep your projects organized.
Use email. Unlike the immediacy of a phone call, email allows you to investigate an issue and respond when you have time. A thorough response can also eliminate the need for follow-up emails or phone calls.

Be careful though when it comes to the use of email. We live in a world of immediacy, and the temptation to read and respond to all incoming messages as received can derail your best intentions when it comes to time management.

Set a block of time aside to read and respond to noncritical emails a couple of times each day. Unless you need to do further investigation or consult with someone before responding, read and then respond. Putting off the simple response causes you to open and read the email twice.

Stick to your schedule. Assign reasonable time limits to as many tasks as possible. This includes meetings, which should start and end on time.
Block out private time. Set aside time to work on projects by closing your door, forwarding calls to voice mail, not reading and/or responding to noncritical emails, and/or scheduling a "meeting" with yourself.
Fill your "free time." When there is a "lull" in activity, use that time to take care of some of your low-priority or non-time-sensitive tasks.
Limit "watercooler" time. Though good for maintaining positive working relationships, time at the "watercooler" or socializing should be limited.
Reduce stress. Refresh yourself by taking the occasional break. A short walk, stretching, or deep breathing can help you relax and feel refreshed.
---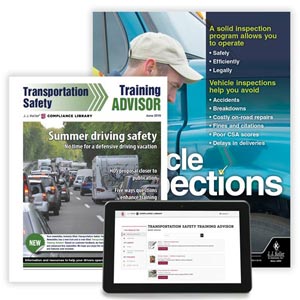 J. J. Keller's Transportation Safety Training Newsletter helps you build your drivers' skill level, reduce the chance of fines, and stay in compliance.
---
J. J. Keller's FREE Transportation SafetyClicks™ email newsletter brings quick-read safety and compliance news right to your email box.