Survey reveals how hiring managers feel about parents sitting in on a child's interview
Posted August 18, 2016
Do mom and dad know best when their children are looking for jobs? Not always, new research suggests.
According to the survey by OfficeTeam, 35 percent of senior managers interviewed said they find it annoying when helicopter parents are involved in their kids' search for work. Another 34 percent of respondents prefer mom and dad stay out of the job hunt, but would let it slide. Only 29 percent said this parental guidance is not a problem.
Senior managers were asked, "Which one of the following statements most closely describes how you feel when a candidate's parent is involved in the job search process?" Their responses:
It's annoying — job seekers should handle things on their own: 35 percent
I wouldn't recommend it, but I'll let it slide: 34 percent
It's totally fine for job seekers to get help from their parents: 29 percent
Don't know/no answer: 1 percent
*Responses do not total 100 percent due to rounding.
Managers were also asked to recount the most unusual or surprising behavior they've heard of or seen from helicopter parents of job seekers. Here are some of their responses:
"The candidate opened his laptop and had his mother Skype in for the interview."
"A woman brought a cake to try to convince us to hire her daughter."
"One parent asked if she could do the interview for her child because he had somewhere else to be."
"A father asked us to pay his son a higher salary."
"One mom knocked on the office door during an interview and asked if she could sit in."
"Parents have arrived with their child's resume and tried to convince us to hire him or her."
"A job seeker was texting his parent the questions I was asking during the interview and waiting for a response."
"Once a father called us pretending he was from the candidate's previous company and offered praise for his son."
"Parents have followed up to ask how their child's interview went."
"A father started filling out a job application on behalf of his kid."
"I had one mother call and set up an interview for her son."
"Moms and dads have called to ask why their child didn't get hired."
And one parent took a reverse psychology approach:
"When we called one candidate, his mom answered and asked us not to hire him."
About the research
The survey was developed by OfficeTeam and conducted by an independent research firm. It includes responses from more than 600 senior managers at companies with 20 or more employees in the United States and Canada.
---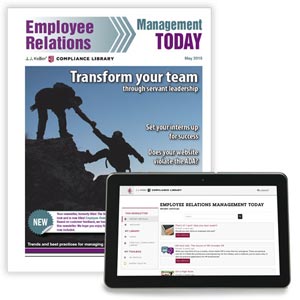 The SUPER adVISOR™ newsletter contains four pages dedicated to the HR manager and a corresponding four-page pullout dedicated to the needs of supervisors.
---
J. J. Keller's FREE HRClicks™ email newsletter brings quick-read human resources-related news right to your email inbox.