Restaurant will pay $200,000 in sexual harassment and retaliation lawsuit
Posted August 25, 2016
A Baltimore, Maryland, restaurant will pay $200,000 and furnish significant equitable relief to settle a federal sexual harassment and retaliation lawsuit brought by the U.S. Equal Employment Opportunity Commission (EEOC), the agency announced on August 22, 2016.
EEOC charged that the restaurant owner sexually assaulted a female employee. Others also harassed the employee, but the restaurant failed to stop the harassment, EEOC said. The employee was forced to quit due to the intolerable abuse.
The restaurant owner also engaged in unwelcome sexual touching of other female employees and made sexually offensive comments to female employees, according to the suit. The restaurant suspended and later refused to increase the work hours of one employee in retaliation for her rejection of the owner's sexual advances and for filing a charge of discrimination, EEOC said.
The three-year consent decree requires the restaurant to pay $200,000 in monetary relief to the two women and a class of female employees who were subjected to harassment during the period January 1, 2013 through the date of the decree. EEOC will identify appropriate class members and determine the amount of relief payable to them.
The decree enjoins the restaurant from engaging in sex discrimination, sexual harassment, or retaliation in the future. The restaurant will retain an independent monitor who will investigate any complaints of harassment and retaliation and make recommendations on resolving such complaints. The restaurant will implement, and distribute to employees, policies prohibiting sexual harassment and retaliation. In addition, the restaurant will post a notice about the settlement and report to EEOC on its compliance with the decree.
---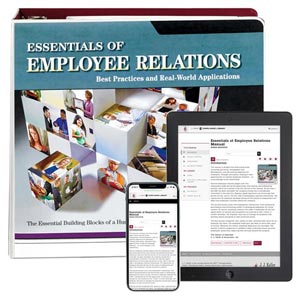 J. J. Keller's Essentials of Employee Relations Manual provides critical HR best practice tips and real-world applications in one convenient resource.
---
J. J. Keller's FREE HRClicks™ email newsletter brings quick-read human resources-related news right to your email inbox.