Respirable coal mine dust rule in final phase of implementation
Posted August 11, 2016
Exactly two years after its landmark rule aimed at preventing black lung disease took effect, MSHA began implementing provisions of the third — and final — phase of the rule. Effective on August 1, 2016, the overall respirable dust standard in coal mines is reduced from 2.0 to 1.5 milligrams per cubic meter of air. The rule also reduces the standard for miners diagnosed with black lung, and for air used to ventilate areas where miners work, from 1.0 to 0.5 milligrams per cubic meter of air.
In July 2016, MSHA announced approximately 99 percent of the respirable coal mine dust samples collected from April 1, 2016, through June 30, 2016, complied with coal mine dust standards. Using the new, cutting-edge continuous personal dust monitor that provides miners with dust results in real time during the working shift, agency personnel have analyzed more than 20,000 underground coal mine operator samples.
Since the final rule went into effect MSHA and mine operators have collected more than 122,000 respirable dust samples and more than 99 percent of those samples met compliance levels.
On January 25, 2016, the U.S. Court of Appeals for the 11th Circuit denied a challenge to the dust rule brought by two separate groups representing the coal industry. The court found that MSHA acted within its statutory authority in promulgating the dust rule, and that MSHA's dust rule reflected reasonable agency decision making based on an expansive rulemaking record.
Prolonged exposure to respirable coal mine dust can lead to black lung, a debilitating and deadly disease. The National Institute for Occupational Safety and Health estimates that black lung has caused or contributed to the deaths of 76,000 coal miners since 1968. Since the late 1990s, the percentage of miners identified with black lung has increased from 5 to 10 percent among long-tenured workers. More than $45 billion in compensation benefits have been paid out to coal miners disabled by black lung and their survivors.
---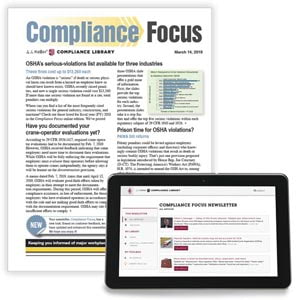 J. J. Keller's Compliance Focus helps you stay on top of critical regulatory developments from: DOT, OSHA, EPA, DOL, MSHA, EEOC, DHS and other agencies.
---
J. J. Keller's FREE Workplace SafetyClicks™ email newsletter brings quick-read workplace safety and compliance news right to your email box.