Real estate developer settles immigration-related discrimination claim
Posted August 11, 2016
The Justice Department reached an agreement with a New Jersey commercial real estate development and management company to resolve the department's investigation into whether the company discriminated against work-authorized non-U.S. citizen job seekers, in violation of the Immigration and Nationality Act (INA).
The department's investigation found that the company discriminated based on citizenship status by publishing a job posting that required applicants for a particular job opening to be U.S. citizens, in violation of the INA. Job postings with citizenship preferences or requirements violate the INA by restricting employment opportunities available to work-authorized non-citizens. While there are exceptions in the INA that allow for specific positions to be subject to citizenship requirements, the position available at the company did not meet the criteria.
Under the settlement agreement, the company will pay $1,400 in civil penalties, train its human resources staff on the antidiscrimination provision of the INA, review its policies, and be subject to monitoring by the department for a three-year period.
The INA prohibits, among other things, citizenship, immigration status and national origin discrimination in hiring, firing or recruitment or referral for a fee; unfair documentary practices in employment eligibility verification; retaliation; and intimidation.
---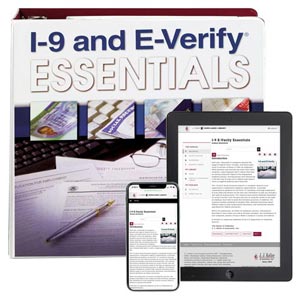 J. J. Keller's I-9 and E-Verify Essentials Manual contains up-to-date info on new Form I-9 requirements and the entire employment authorization process.
---
J. J. Keller's FREE HRClicks™ email newsletter brings quick-read human resources-related news right to your email inbox.