OSHA posts new FAQ on e-reporting rule
Posted August 16, 2016
OSHA published a new frequently asked question (FAQ) clarifying the electronic injury and illness reporting rule is based on the number of employees at an individual establishment, not company-wide.
The final rule published on May 12, 2016, states certain employers are required to electronically submit injury and illness data to OSHA annually. The rule also says the content of these establishment-specific submissions depends on the size and industry of the employer, ranging from only the annual summary for smaller workplaces to nearly all Form 300 and 301 data for larger employers.
OSHA's FAQ provides clarification to the rule and reads as follows:
Are the electronic reporting requirements based on the size of the establishment or the size of the firm?
The electronic reporting requirements are based on the size of the establishment, not the firm. The OSHA injury and illness records are maintained at the establishment level. An establishment is defined as a single physical location where business is conducted or where services or industrial operations are performed. A firm may be comprised of one or more establishments. To determine if you need to provide OSHA with the required data for an establishment, you need to determine the establishment's peak employment during the last calendar year. Each individual employed in the establishment at any time during the calendar year counts as one employee, including full-time, part-time, seasonal, and temporary workers.
All establishments with 250 or more employees in industries covered by the recordkeeping regulation must electronically submit to OSHA injury and illness information from OSHA Forms 300, 300A, and 301. Establishments with 20-249 employees in certain industries must electronically submit information from OSHA Form 300A only.
---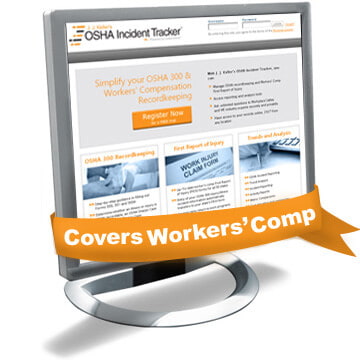 J. J. Keller's OSHA Incident Tracker™ Tool is an up-to-date online service that helps you simplify your OSHA Form 300 and worker's compensation recordkeeping.
---
J. J. Keller's FREE Workplace SafetyClicks™ email newsletter brings quick-read workplace safety and compliance news right to your email box.