New rule offers clarity for employers in states with mandatory IRA programs
Posted August 30, 2016
The U.S. Department of Labor's Employee Benefits Security Administration is issuing a final rule that assists states that create individual retirement account (IRA) programs for workers who do not have access to workplace savings arrangements. At the same time, in response to public comments, the department is also issuing a proposed rule that could facilitate a limited number of cities and other local governments doing the same.
The final rule provides guidance for states in designing programs by providing a safe harbor from Employee Retirement Income Security Act's (ERISA) coverage to reduce the risk of ERISA preemption of the relevant state laws. The DOL says the rule also helps protect worker rights by ensuring they have the ability to opt out of auto-enrollment arrangements. The rule will go into effect 60 days after its publication in the Federal Register.
Eight states have already enacted legislation to create retirement savings programs for private-sector workers.
Most of those laws require employers that do not offer workplace savings arrangements to automatically enroll their employees in payroll deduction IRAs administered by the states, while other state laws create a marketplace of retirement savings options geared at employers that do not offer workplace plans.
Although other states are considering similar measures, uncertainty over the application of ERISA's preemption provisions has proven to be a roadblock to broader adoption of such programs.
The proposed rule expanding the safe harbor to include a limited number of larger cities and counties in response to comments received from members of the public will be open for 30 days of public comment after its publication in the Federal Register.
---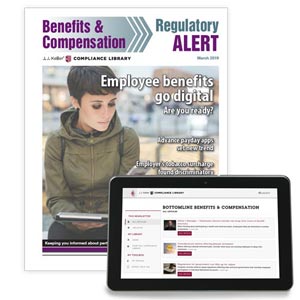 J. J. Keller's BottomLine Benefits & Compensation is an 8-page, monthly newsletter that addresses key issues relating to benefits and compensation programs.
---
J. J. Keller's FREE HRClicks™ email newsletter brings quick-read human resources-related news right to your email inbox.