NHTSA reports steep increase in traffic fatalities in 2015
Posted August 31, 2016
The nation lost 35,092 people in traffic crashes in 2015, ending a 5-decade trend of declining fatalities with a 7.2 percent increase in deaths from 2014.
The final data released on August 29 by the National Highway Traffic Safety Administration (NHTSA) showed traffic deaths rising across nearly every segment of the population. The last single-year increase of this magnitude was in 1966, when fatalities rose 8.1 percent from the previous year.
Ten years ago, the number of traffic deaths was nearly 25 percent higher, with 42,708 fatalities reported nationwide in 2005. Since then, safety programs have helped lower the number of deaths by increasing seat belt use and reducing impaired driving. Vehicle improvements, including air bags and electronic stability control, have also contributed to reducing traffic fatalities.
Contributing factors
According to NHTSA, job growth and low fuel prices were two factors that led to increased driving, including increased leisure driving and driving by young people. More driving can contribute to higher fatality rates. In 2015, vehicle miles traveled (VMT) increased 3.5 percent over 2014, the largest increase in nearly 25 years.
NHTSA also noted human factors continued to contribute to the majority of crashes. Almost half of passenger vehicle occupants killed were not wearing seat belts. Research shows almost one in three fatalities involved drunk drivers or speeding. One in 10 fatalities involved distraction.
In response to the increase, the U.S. Department of Transportation, NHTSA, and the White House are issuing an unprecedented call to action to involve a wide range of stakeholders in helping determine the causes of the increase. NHTSA will share its Fatality Analysis Reporting System with safety partners, state and local officials, technologists, data scientists, and policy experts. And private sector partners using new data collection technologies will be offering access to unprecedented amounts of data and new visualizations tools.
---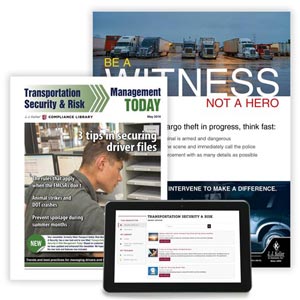 J. J. Keller's Transport Safety Risk Management & Security Newsletter keeps you up-to-date on the latest security and motor carrier safety risk management.
---
J. J. Keller's FREE Transportation SafetyClicks™ email newsletter brings quick-read safety and compliance news right to your email box.